Opendi Business Pages and Reviews
up-to-date data, high coverage, powerful partnerships
Add business to Opendi
Opendi is a global business directory with 9266000 companies and 64000 reviews. More than 12000 companies have detailed descriptions and maps.
Boost your local business with an optimized listing in Opendi. As one of the top business directories globally, the directory reaches users across 29 countries spanning five continents
Opendi hosts over 9,266,402 listings and helps around 9 million users find services or products they're looking for in their local areas. You'll also find over 12,000 unbiased reviews to choose the right businesses for your requirements
Features
With free business listings, Opendi showcases your business to a wide audience worldwide. The directory offers features like
Detailed Business Descriptions
Localize your brand and attract more buyers with complete and updated descriptions, including your company's history. Add your business's name, address, and phone numbers to each service location on the directory. You can also embed links connecting your listing with your business profile on Twitter and Facebook.
Share the biographies of your staff, including educational qualifications, experiences, and specializations, to attract more people. Also, Opendi lets you create a direct link to relevant web pages from your listing.
Comprehensive Display Settings
Include your complete menu to let users see all that you offer on your web pages. You may also use maps to shows the exact business location to local buyers. The directory lets you list all your products or services on your listing with a detailed description of each. Also, highlight significant events and special promotions on the event calendar integrated into your listing.
Real-Time Updates
You can keep your business phone, opening hours, reviews, website URL, videos, images, address, business categories, etc., updated at all times on Opendi. Include updated payment modes accepted on your website or at the local store.
Add working hours to inform the customers about your availability. Also, let them know that you're open 24/7 to serve them at any time. Share special working hours during the holidays
Data Analytics
Check different review channels to know what customers say about your services. Get better insights into users' interaction with your brand using our proprietary data related to profile views, searches, etc. Use smart data analytics to track and suppress any duplicate listings so that the buyers will see your authentic profile.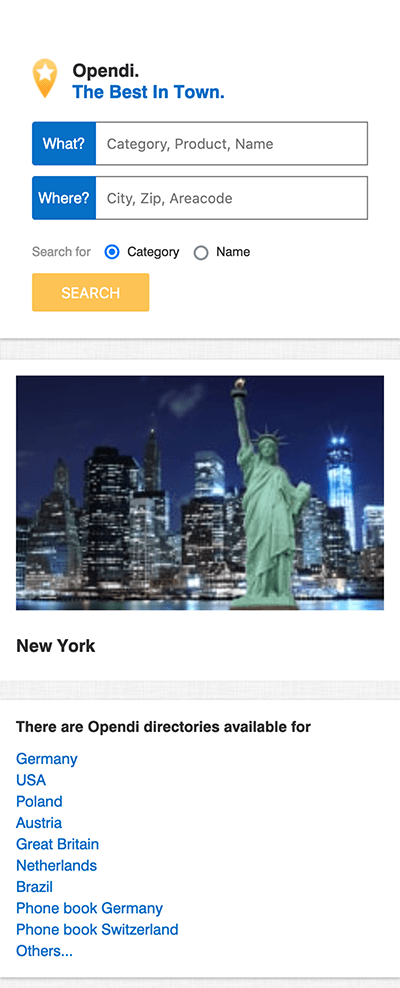 Business Description
Attract more customers with detailed business description.
Main profile
Basic business information, including phone and street address.
Payment Methods
Inform customers in advance what payment methods are excepted.
Working Hours
Let your customers know when you are open and when business is closed.
Holiday Hours
Inform your customers about special hours during holidays.
Real Time Updates
Control your listings in real time.
Website URL
Get extra traffic to your webpages by providing a direct link to your website.
Latitude and Longitude
Show exact business location with map pin.
Analytics
Get a comprehensive view of how consumers interact with your brand on the places they search.
Stuff
Share employee biographies — highlighting their education, specializations.
Duplicate Suppression
Suppress duplicate listings and let visitors see only correctly listed profile.
Photos
Not Applicable
Videos
Not Applicable
Service Lists
Show offering and specialty with detailed product and services lists.
Menus
Present your service menu online.
Google Business
Not Applicable
Facebook
Connect Facebook business page to get likes and shares.
Twitter
Connect Twitter account to you listings pages.
Event Calendar
Highlight special business events and promotions with event calendar
24/7 Hours
Let customers know your service is available at any time of day.