Hotfrog Connects Searches and Businesses
this directory is powered by web.com
Add business to Hotfrog
Hotfrog has over 66 million business profiles in 36 countries, the information is collected from publicly available records, websites and from commercial data services.
Local Directory Description
If you are looking for business differentiation, then look no more: Hotfrog is here! This online tool allows businesses from all around the world to increase the demand for their business by increasing their visibility on the internet and thereby attract more customers by promoting their services and products through listings, business coupons, images, and other marketing tools.
What Makes it Different
With Hotfrog, you can tell the world what makes your services or products different than the others on the market. Sixty-eight million businesses from more than thirty-eight different countries use this directory to showcase their business to its more than one million six hundred thousand active monthly visitors. You can do this too!
From HotFrog History
Our online directory was first established in Australia and launched in late 2005. Since then, the online directory has been growing rapidly in countries like France, Germany, Spain, India, and beyond. It is available in seventeen different languages and now features more than seventy million listings.
Our online directory allows businesses to categorize themselves by creating and modifying their tags with keywords that are related to their particular business. This feature makes Hotfrog an online directory that is loved by many businesses around the world.
Moboom is a global technology company that specializes in responsive website development and providing mobile solutions for various publishing groups. It established numerous partnerships with different online directories in 2015 and soon took aim at our directory because of its phenomenal global presence. By November 2016, it acquired 100% ownership of the online directory and ameliorated the company's online presence and worldwide respect by increasing the company's customer service and its marketing effectiveness for its customers.
Directory Services
Since then, our online directory has been the world leader in providing online directory services and it has been committed to providing you with only top-notch services. Hotfrog specializes in online marketing, online directory services, small business marketing, lead generation and is a powerful local business resource.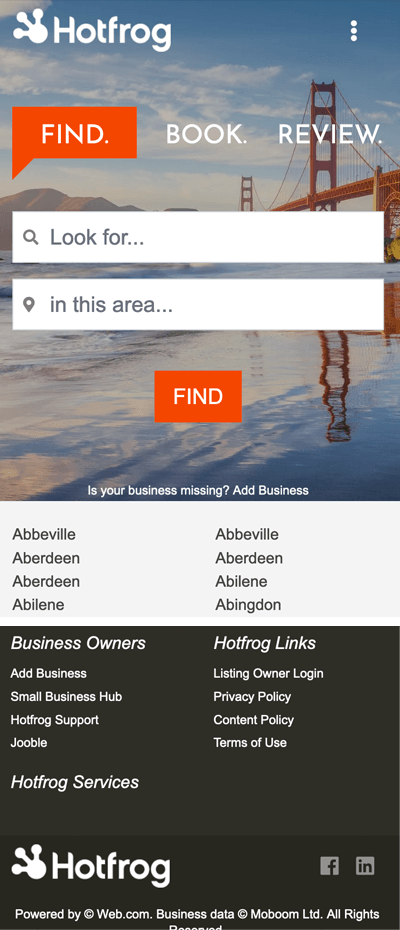 Business Description
Attract more customers with detailed business description.
Main profile
Basic business information, including phone and street address.
Payment Methods
Inform customers in advance what payment methods are excepted.
Working Hours
Let your customers know when you are open and when business is closed.
Holiday Hours
Inform your customers about special hours during holidays.
Real Time Updates
Control your listings in real time.
Website URL
Get extra traffic to your webpages by providing a direct link to your website.
Latitude and Longitude
Show exact business location with map pin.
Analytics
Get a comprehensive view of how consumers interact with your brand on the places they search.
Stuff
Share employee biographies — highlighting their education, specializations.
Duplicate Suppression
Suppress duplicate listings and let visitors see only correctly listed profile.
Photos
One picture worth a thousand words, add several photos for the best presentation.
Videos
Videos attract more customer and keep them on your page.
Service Lists
Show offering and specialty with detailed product and services lists.
Menus
Not Applicable for this Directory
Google Business
Add Google Business pages for most effective marketing.
Facebook
Connect Facebook business page to get likes and shares.
Twitter
Connect Twitter account to you listings pages.
Event Calendar
Highlight special business events and promotions with event calendar
24/7 Hours
Let customers know your service is available at any time of day.