BuildZoom Directory for Contractors
find the prefect contractor for any job, for free
Add business to BuildZoom
BuildZoom is the perfect place for contractors and freelancers with it's goal to connect homeowners to the most reliable general contractors in their area for commercial or residential buildings.
Connect your company with high-quality customers and raise your business's profile with BuildZoom listings. The local SEO directory lists information and the company records of contractors across the United States, enabling customers to choose the most reliable and suitable team for their project.
The directory also allows contractors and companies to grow their profile and reputation as dependable local businesses via verified reviews and customer feedback.
Ranging from small home improvement jobs to large commercial construction projects, BuildZoom is a one-stop shop for both contractors and customers.
Low-Cost Local SEO
A key benefit of BuildZoom listings is the low-cost approach. It costs nothing to claim your profile on the database, meaning you can get started without any expense to your company.
The platform only begins charging contractors if and when you are successfully chosen for a project. Therefore, there is very little risk involved in claiming your profile.
Higher Performance Results In More Jobs
The local SEO platform is mutually beneficial for contractors and clients. For that reason, your business's performance directly translates into more jobs. As more clients rate your work highly, the more likely you are to attract more custom.
For that reason, having a profile on the platform both encourages additional customers to consider your company and increases your opportunities to land larger and more.
Build Trust With Your Customers
What your current and past customers think about the quality of work your company provides is the most important aspect for driving business growth and encouraging new custom. Therefore, BuildZoom listings prioritize your company's reputation, past reviews, licenses and permits when recommending contractors to potential clients. As you carry out more jobs and receive positive reviews, prospective customers will become more trusting in your company, and the directory will reward your business by increasing your customer reach.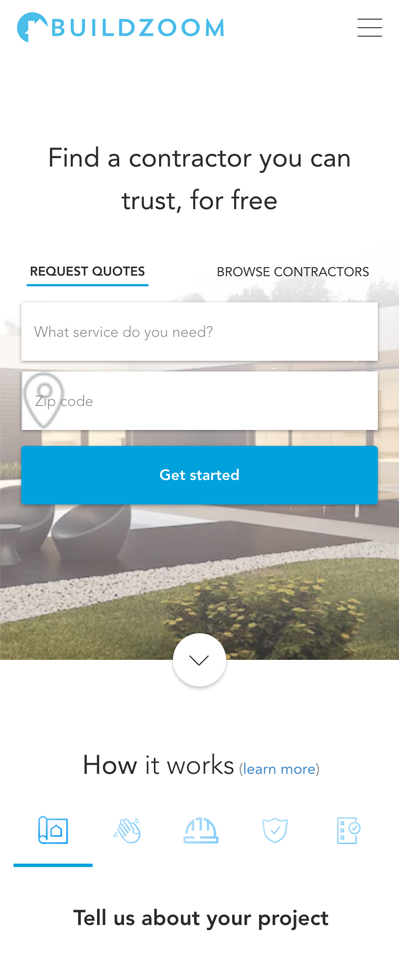 Business Description
Attract more customers with detailed business description.
Main profile
Basic business information, including phone and street address.
Payment Methods
Inform customers in advance what payment methods are excepted.
Working Hours
Let your customers know when you are open and when business is closed.
Holiday Hours
Inform your customers about special hours during holidays.
Real Time Updates
Control your listings in real time.
Website URL
Get extra traffic to your webpages by providing a direct link to your website.
Latitude and Longitude
Show exact business location with map pin.
Analytics
Get a comprehensive view of how consumers interact with your brand on the places they search.
Stuff
Share employee biographies — highlighting their education, specializations.
Duplicate Suppression
Suppress duplicate listings and let visitors see only correctly listed profile.
Photos
One picture worth a thousand words, add several photos for the best presentation.
Videos
Videos attract more customer and keep them on your page.
Service Lists
Show offering and specialty with detailed product and services lists.
Menus
Not Applicable for this Directory
Google Business
Add Google Business pages for most effective marketing.
Facebook
Connect Facebook business page to get likes and shares.
Twitter
Connect Twitter account to you listings pages.
Event Calendar
Highlight special business events and promotions with event calendar
24/7 Hours
Let customers know your service is available at any time of day.