AroundMe Available on iPhone, iPad, Android, and Windows Phone
find quickly and easily information about businesses in your neighborhood
Add business to AroundMe
AroundMe is one of the must have directories for local business owners, as it services over 25 million searches per month. People are looking for nearest banks, gas stations, lawyers, doctors, locksmiths and others.
Increase Business Visibility by Listing Company on the AroundMe App
This app allows consumers to search for banks, restaurants, doctors, and gas stations, among other businesses. It is available for Android, iPad, iPhone and Windows Phone, making it easily accessible to consumers.
Key Facts About AroundMe
It is a business directory that serves over 25 million searches in a month. It may seem like an unnecessary cost to most small and medium-sized businesses, but this business listing is more than just an update for business addresses. As long as you regularly update your business name, phone number, address and other relevant information, you stand to gain the following benefits:
Enhance Your Online Presence
Most people search for business listings on search engines such as Google to find specific services near them. If your business gets listed on directories such as the AroundMe app, people can easily find information on your business, including your address, type of products and contacts. This increases your chances of getting more customers.
Boost Your SEO
Search engine optimization is a technique that uses web content to increase your rankings on search engines. It allows your business to appear in search engine results for your kind of services and goods. Having business listings can supplement your web content, improving your chances of being found by search engines. Be sure to use SEO keywords related to your business
Improve Local Visibility
The beauty of the AroundMe business listing is that it allows local customers to find you easily. In addition, it has a filter option that narrows down results to businesses within the local area. That way, you can get customers in your vicinity, who may likely remain your customers year after year.
It Helps You Connect With Your Customers
Through the app, customers can give reviews of your business. Both positive reviews and negative results are good for your growth. While positive reviews attract more customers, negative reviews give you a chance to know what to improve. You must constantly check and reply to the reviews so that customers can know you value their opinions.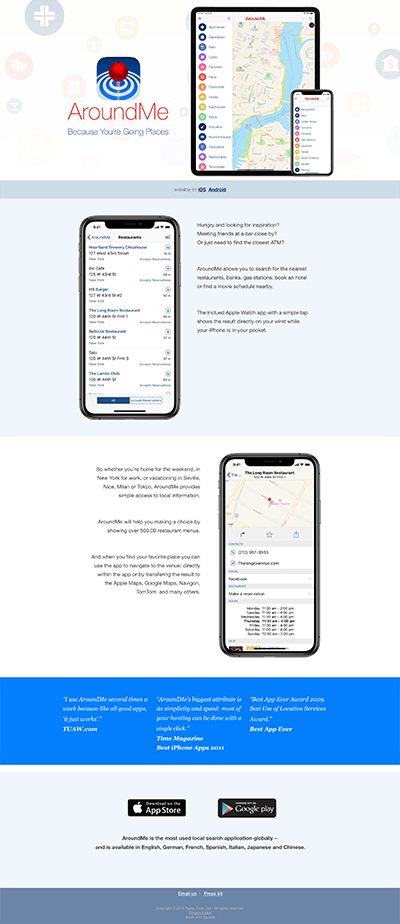 Business Description
Attract more customers with detailed business description.
Main profile
Basic business information, including phone and street address.
Payment Methods
Inform customers in advance what payment methods are excepted.
Working Hours
Let your customers know when you are open and when business is closed.
Holiday Hours
Inform your customers about special hours during holidays.
Real Time Updates
Control your listings in real time.
Website URL
Get extra traffic to your webpages by providing a direct link to your website.
Latitude and Longitude
Show exact business location with map pin.
Analytics
Get a comprehensive view of how consumers interact with your brand on the places they search.
Stuff
Share employee biographies — highlighting their education, specializations.
Duplicate Suppression
Suppress duplicate listings and let visitors see only correctly listed profile.
Photos
One picture worth a thousand words, add several photos for the best presentation.
Videos
Videos attract more customer and keep them on your page.
Service Lists
Show offering and specialty with detailed product and services lists.
Menus
Present your service menu online.
Google Business
Not Applicable
Facebook
Connect Facebook business page to get likes and shares.
Twitter
Connect Twitter account to you listings pages.
Event Calendar
Highlight special business events and promotions with event calendar
24/7 Hours
Let customers know your service is available at any time of day.