FindOpen Places Nearby
opening hours for any place, business or shop
Add business to FindOpen
FindOpen is an online business directory that is focusing on providing users with information about opening hours, phone numbers, addresses, route planning and closing hours for companies listed.
FindOpen Local Directory
An online business directory is critical in helping consumers find important information about the businesses they would like to visit. Holiday hours, hours of operation, menus, special products, and many more reasons can be found in a directory. With the help of FindOpen, you can search for open businesses that fit your specific criteria. In the age of mass internet usage, finding the right information can be difficult; with so many options available, it can become cluttered. By combing through thousands of website listings, FindOpen gives consumers the tools to find exactly what they need, when they need.
How It Works
FindOpen is an easy-to-use platform available on PC, laptop, or phone. Simply type in a business or keyword (food, movies, auto shop) and location, then FindOpen lists the most relevant open businesses to those parameters. Once your chosen business is clicked, you are redirected to a page that lists hours of operation, their company website, and a large map highlighting the exact coordinates. Reviews and review submissions are located at the bottom, ensuring you're getting the quality service that is expected. In the unexpected event that the chosen business is unavailable, FindOpen lists several similar businesses that are open and nearby.
Pricing
FindOpen is a completely free service for users, separating itself from many competitors that offer subscription based monthly charges. The same tools and searching methods for consumers and businesses are available, without the charge.
Getting Listed on FindOpen
Being added to the directory comes at no cost to businesses. Through Cylex Local Search; some businesses have automatically been uploaded. If any errors are spotted, contacting customer support can get these remedied quickly. After a quick verification, the new updated information will be publicly available. Owners can take direct charge in their FindOpen profile, and receive an owner-verified check mark, ensuring the accuracy of information.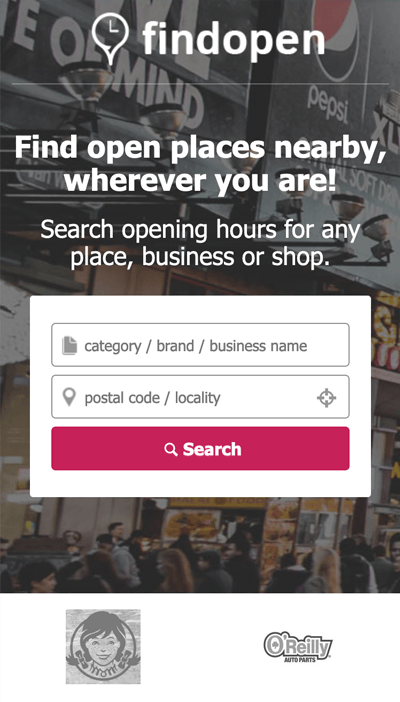 Business Description
Attract more customers with detailed business description.
Main profile
Basic business information, including phone and street address.
Payment Methods
Inform customers in advance what payment methods are excepted.
Working Hours
Let your customers know when you are open and when business is closed.
Holiday Hours
Not Applicable for this Directory
Real Time Updates
Control your listings in real time.
Website URL
Get extra traffic to your webpages by providing a direct link to your website.
Latitude and Longitude
Show exact business location with map pin.
Analytics
Get a comprehensive view of how consumers interact with your brand on the places they search.
Stuff
Share employee biographies — highlighting their education, specializations.
Duplicate Suppression
Suppress duplicate listings and let visitors see only correctly listed profile.
Photos
Not Applicable
Videos
Videos attract more customer and keep them on your page.
Service Lists
Show offering and specialty with detailed product and services lists.
Menus
Present your service menu online.
Google Business
Not Applicable
Facebook
Not Applicable
Twitter
Not Applicable
Event Calendar
Highlight special business events and promotions with event calendar
24/7 Hours
Let customers know your service is available at any time of day.