DexKnows Local Businesses Directory
an expert when it comes to online business listings
Add business to DexKnows
Dexknows helps to connect millions of consumers with best local businesses in their neighborhoods. This online directory with it's presence in over 60 countries make it easy and fast to connect businesses with their clients.
Raising Visibility to an Audience Already Searching for Your Services
Dex knows local directory listings are a well-known source of information for audiences actively searching for a suitable trades person. Dexknows attracts people who are in the market for services, optimizing the chances of ending up with a request for a quote or further information. The reviews and special offers drive traffic and increase confidence in prospect customers.
Connect your audience and your business
A leading player in the local listings arena, Dexknows local listings raises awareness of your business (or that of your clients) to an audience that's actively looking for the services on offer.
A good marketing option for tradesmen, Dexknows incorporates an extensive list of service categories that means it's of relevance to security firms, interior decorators, locksmiths, pest controllers, and many more. Think of it as a business phone book.
Geographically Flexible and Relevant
No matter where you're located, we can put you in touch with a local audience who want what you've got to offer. You need an email address and better a website to put your listing on Dexknows.
Improve SEO Rankings
The inclusion of a business in a business directory is a good way of increasing its prominence in search engine results. Using a business directory is particularly beneficial to businesses that provide a local, geographically targeted service. The greater the number of online links between your business and your location, the better your search result ranking will become.
Gain Positive Reviews
With research indicating that around 97% of consumers check online reviews before purchasing, it's clear that a mechanism that encourages your customers to let others know what they think is going to be important to your company's success.
Get a straightforward, easily accessible method for your customers to leave an online review of the service they've received. This platform is a business directory that benefits both customers and businesses. It provides a powerful communication and search tool that offers a great showcase for business services as well as a useful method of finding a high-quality tradesman for local people. An essential tool in modern internet marketing era.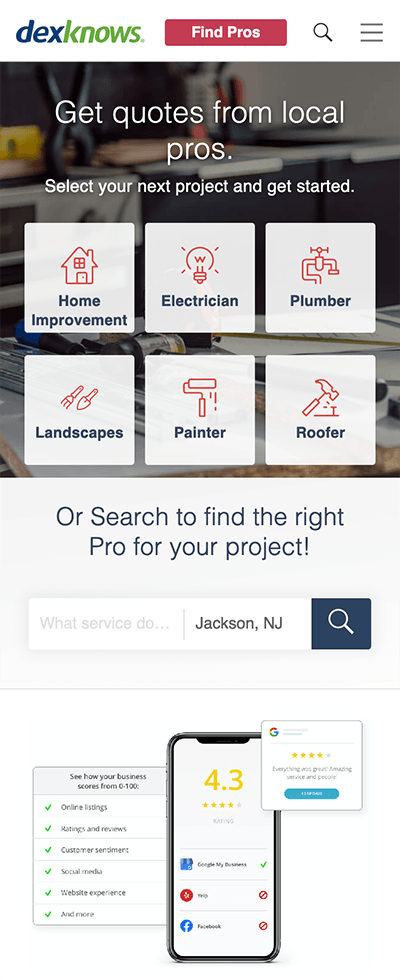 Business Description
Attract more customers with detailed business description.
Main profile
Basic business information, including phone and street address.
Payment Methods
Inform customers in advance what payment methods are excepted.
Working Hours
Let your customers know when you are open and when business is closed.
Holiday Hours
Not Applicable for this Directory
Real Time Updates
Control your listings in real time.
Website URL
Get extra traffic to your webpages by providing a direct link to your website.
Latitude and Longitude
Show exact business location with map pin.
Analytics
Get a comprehensive view of how consumers interact with your brand on the places they search.
Stuff
Share employee biographies — highlighting their education, specializations.
Duplicate Suppression
Not Applicable
Photos
One picture worth a thousand words, add several photos for the best presentation.
Videos
Videos attract more customer and keep them on your page.
Service Lists
Show offering and specialty with detailed product and services lists.
Menus
Present your service menu online.
Google Business
Not Applicable
Facebook
Not Applicable
Twitter
Not Applicable
Event Calendar
Highlight special business events and promotions with event calendar
24/7 Hours
Not Applicable