Local Business Listings and Management
list your business online where customers are searching and buying
70+ Local Business Directories
Boost your local SEO with quality online directory listing!
Millions of potential customers are looking for directions and local services every hour. Help them find your company or product online and on the ground, dominate the local market and make your information ready and available. Search engines and maps will present actual and unified data in their results.
Increase website search rankings, citation, and trust score with over seventy links from high domain authority sites. Get valuable leads and grow organic traffic following the best local SEO practices.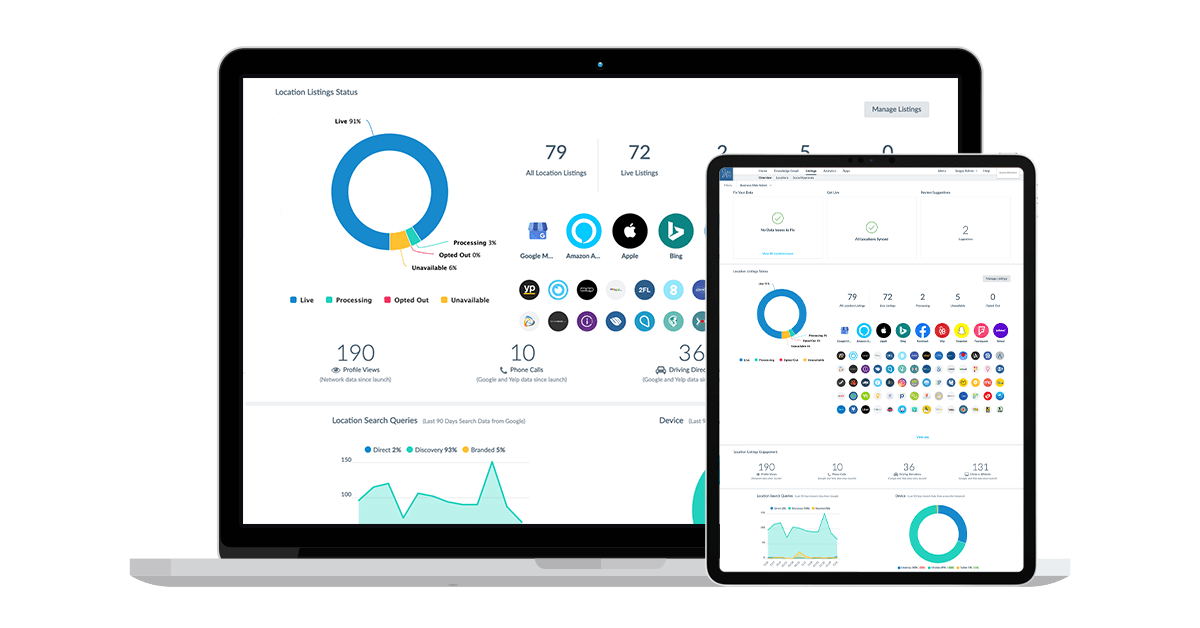 Comprehensive knowledge graph, detailed analytics, live listings links.
Special offer, targeted keywords, meta tags, and valuable backlinks.
List, optimize, and update business profile in 70+ websites from one place.
This service includes online listings, search engines, maps, apps, and GPS services
Claim and verify your listing, build a strong profile, get more clicks and views
Effective local search engine optimization
Company profile available on any device: desktop, notebook, iPad, or smartphone
Contact information as phone numbers, opening hours, payment options kept up to date
Duplicate listing suppression, unified business data
FREE Local Listings Checker
check company profile presence in most popular online business directories, get visibility report
currently USA local addresses only
Does any of these apply to your business?
get help from local search and online presence specialists and search engine optimization professionals
I don't know where my company is listed or should be listed
How do I check if my business profile is accurate?
How to build a positive online reputation?
How do I get more reviews?
How do my competitors perform?
How to add my best reviews to my website?
What is "brand monitoring"?
Can I add photos and videos to my business profile?
How to update information on social media?
What is the best way to respond to reviews?
How to add a business to maps and navigation sites?
How to change address, phone number, working hours?
Could I add coupons and specials to my local listing?
Could I manage several locations from one account?
Be the First Business in Local Search Results!
Google, Google Maps, Amazon Alexa, Apple Maps, Facebook, Bing, Yahoo, Yelp, and other free business listing websites and platforms. And any time consumers search for your company via maps, apps, voice assistants, search engines, GPS systems, or social networks, they discover accurate, complete, and compelling information about your business, product, or service. More potential customers will be able to find your company online and on the ground.
We Do Better for the Best Price
Get business correctly listed on over 70 authoritative directories, search engines, apps, GPS systems.
Web Admin
Directory Listing
$49.99 per month
1 Location
70+ Directories
Yellow Pages
Presence Plus
$69 per month
1 Location
60 Directories
1&1 Hosting
List Local
$19,99 per month
1 Location
25 Directories
GoDaddy
Local Business
$19,99 per month
1 Location
16 Directories
Local Listing Frequently Asked Questions
Q: Why local business listing is important?
Now-days people are looking for information on Google Maps, Yelp, AroundMe, Avantar and many other local directories, that is why it's vital that they find up-to-date, accurate and relevant business information you want to present.
Q: What information needs to be included?
Every directory needs name, address, hours of operation, web site, phone number, basic description and business category, most of them support payment types accepted, photos, special deal and video.
Q: What are the benefits of directory listings?
Accurate information promotes trust, attracts new customers, strengthens your business's reputation, increases brand awareness and improves SEO.
Q: How soon updates become visible?
Most of directories will be updated close to real time, some of them like Apple Maps could take up to a week to make changes.
Q: Does Google My Business included?
Yes, we help to mange and trace activity for Google My Business profiles.
Q: Could I try it for free?
We do not offer free trials, but we offer free current visibility check and free video presentation.
Q: How often business profile could be updated?
We offer unlimited updates for every level of Local Business Listings you order.
Q: Which local business directory listings are supported?
We offer direct access to over 80 most popular and trafficking listings website.
Q: How to change my whois info?
Please login to you admin account, from their you are able to mange domain whois information, or contact Web Admin for help.
Q: How do I update business profile?
You will get direct on-line access to "Knowledge Base" where you could post updated anytime and from where analytics is available.
Q: Could I post photos and videos?
Yes, most of the directories have an option to display photos, we recommend up to five or six, and one video.
Q: How many links my website will get?
Each listing will give you up to two direct links. One for your company's website and one for a spacial deal or promotion.
Q: Will I be able to post deals and coupons?
Yes, if directory has an option for coupons, they will be posted from your company "Knowledge Base" profile. You could have multiple coupons and one deal posted.
Q: Will I be able to monitor business reviews?
Yes, our packages include reviews monitoring, reviews generation, publishing and response options.
Q: What extras do you offer?
For doctors, medical offices, cafes and restaurants we have extra aggregators and menu publishing options.
Q: Do you have a discounts?
Yes, you could save up to 20% when you pay one year upfront. There are volume discounts available, Contact our sale's team to find out more.
360 Degree Photography
94% more likely to be viewed and 29% more likely to motivate consumers
get noticed with spherical photography published on Google Maps and Google Street View or embedded to a website
360 Photo Service Page
Single Image
Just $19.99
One Picture
Map Publishing
Street View Post
Facebook Post
Virtual Tours
From $299
Six Pictures
Map Publishing
Street View Post
Website Integration
Custom Work
Contact Us
Advanced Retouching
Map Publishing
Street View Post
Website Integration
18.85M Views
Google Maps