WordPress CMS Tutorials
best wordpress website design examples, award winning websites reviews
Forget PowerPoint, How to Create Presentations in WordPress
Are you looking to create a PowerPoint presentation on your WordPress site, but not sure where to start?
What if we told you that you can now use WordPress to design and share presentations and leave PowerPoint behind.
In this article, we will show you how to use your WordPress website to deliver PowerPoint type presentations.


Why Create Presentations in WordPress?
A presentation on your website helps create visual appeal, keeps viewers on your pages longer, and boosts search engine optimization.
There are several different ways to add presentation slides to a WordPress website.

Use a plugin like Embed Any Document.
Copy and paste an embed code from Google Slides.
Use a third-party service like SlideShare.

The problem with these methods is that you have to create your presentation in other software like PowerPoint, Keynote, or Google Slides. After that, you can embed the original document to your WordPress posts and pages.
These embeds sometimes don't work with all devices, look ugly, difficult to browse, and not very SEO friendly.
An easier alternative is to create your presentation in WordPress using HTML 5 and JavaScript. It is SEO friendly, works with any device, and looks great.
It is also easy to share, which brings direct traffic to your website instead of a third-party service.
That being said, let's take a look at how to easily create a presentation in WordPress without using external software.
How to Create a Presentation in WordPress
First, you need to install and activate the Slides & Presentations plugin. If you need help, we have written a handy step-by-step guide on how to install WordPress plugins.
Upon activation, you need to visit Presenation » Add New page to create your first presenation.
If you are familiar with making PowerPoint presentations, then the process of creating one using the Slides and Presentations plugin will be simple.
Your presentation will be made up of slides. The plugin comes with a Slide block which you can use to add more slides to your presentation.
First, you need to click on the Setup tab under the Document settings. From here you can select your presentation size by choosing either the standard 4:3 or widescreen 16:9.


Below that, you will find the options to set background color/image, font, transition effects, and controls for your entire presentation.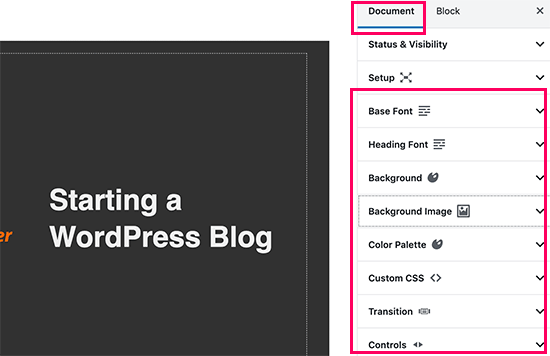 You can also change these settings for individual slides as you add them.
Now let's start working on your slides.
In the content area, you will see a large box. This is where you will add your slide's content.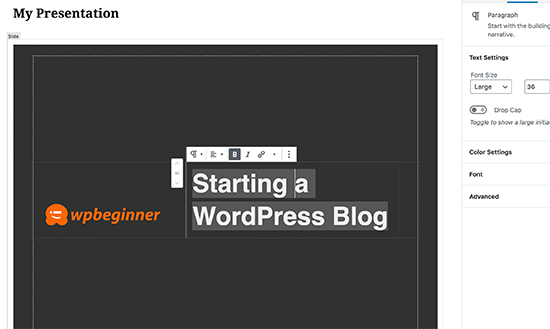 Yes, this is the same WordPress block editor that you use to write blog posts. You can add text, headings, lists, images, media, and embeds to your slide.
If you are new to the WordPress editor, then see our complete WordPress block editor tutorial to familiarize yourself with the blocks.
While editing a slide...
https://www.wpbeginner.com/plugins/for
How to Enable Author Tracking in WordPress
Do you want to enable author tracking on your WordPress website?
If you run a multi-author WordPress site, then you're probably wondering which of your authors write the most popular posts.
In this article, we'll share how to enable author tracking in WordPress, so you can see all the authors related data that you need to make smart decisions for growing your website.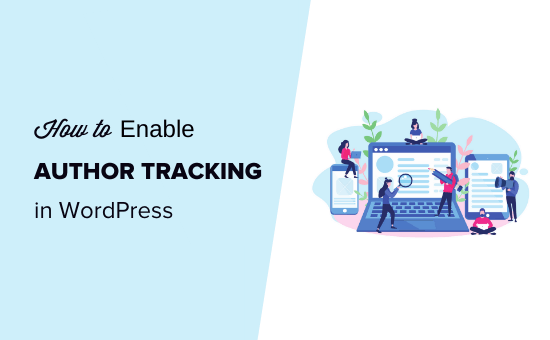 Why and Who Should Enable Author Tracking in WordPress?
If you run a multi-author blog, then you need to enable author tracking in WordPress. It allows you to gather data about how each author's posts are performing on your website.
You can then promote high performing authors and offer some extra help to those who are struggling.
It is also a great way to find out whose posts bring in the most traffic and which articles are engaging readers.
For instance, you might have an author who's great at writing posts that get lots of visitors, but those visitors may not stick around on your site. This may result in a high bounce rate, fewer page views, and less time spent on the website.
After gathering this data, you can make informed decisions by improving your editorial workflow and offering more tips and help to the struggling writers.
Setting up Author Tracking in WordPress
First, you need to install and activate the MonsterInsights plugin. For more details, see our step by step guide on how to install a WordPress plugin.
MonsterInsights is the best Google Analytics plugin for WordPress. You'll need at least the Pro plan of the plugin to access the custom dimensions feature.
Upon activation, go to the Insights » Settings page in your WordPress dashboard to enter your license key. You can find this information under your account on the MonsterInsights website.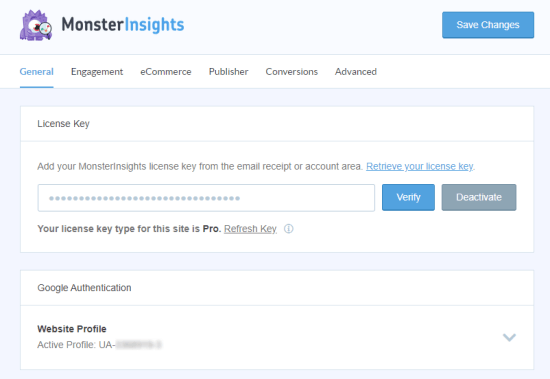 After verifying your license key, you need to connect your WordPress site to your Google Analytics account.
On the Settings page, click on the 'Connect MonsterInsights' button to proceed.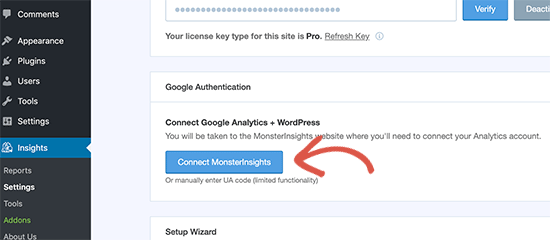 Follow the on-screen instructions to connect your website to Google Analytics using MonsterInsights.
Once connected, Google Analytics will start tracking all your website traffic.
You are now ready to set up author tracking on your WordPress site.
Setting up Author Custom Dimensions for Accurate Tracking
Now that everything is up and running, let's tell Google Analytics to start tracking authors by adding a custom dimension.
You need to start by visiting Insights » Addons page. From here you need to click on the Install button next to the Custom Dimensions addon.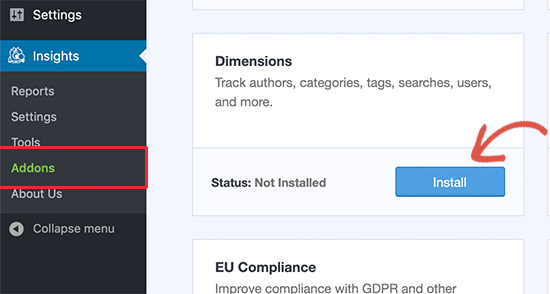 Once it is installed and activated, go to Insights » Settings page and switch to the 'Conversions' tab....
https://www.wpbeginner.com/wp-tutorial
27 Best WordPress Magazine Themes of 2020 [FREE + PAID]
Are you looking for the best WordPress magazine themes for your website?
Content-rich websites need different layouts that can help them promote all new and important content at once. WordPress magazine themes are designed to do just that.
In this article, we'll share some of the best WordPress magazine themes that will help your content shine.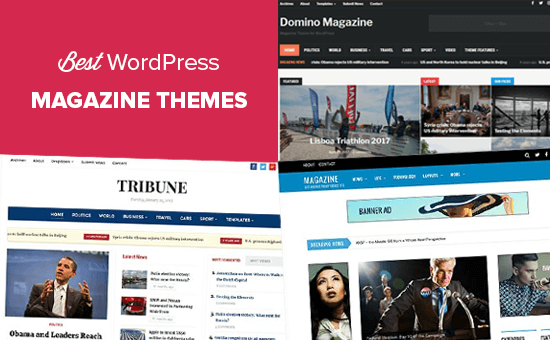 Getting Started with a WordPress Magazine Website
WordPress is the best website builder for building a magazine site. It currently powers over 34% of all websites on the internet.
If you want to make a magazine website with WordPress, then the first thing you'll need is a domain name and web hosting.
Magazine websites often have a lot of content including images and videos. This is why you need to choose a WordPress hosting company that offers you enough space to upload all your files while also handling your traffic efficiently.
If you are just starting out, then we recommend Bluehost. They are the most popular hosting company and an official WordPress.org recommended hosting provider.
For complete step by step instructions, see our guide on how to start a WordPress blog.
If you have high traffic, then we would recommend going with WP Engine. It is a managed WordPress hosting service, which means they will handle everything for you.
Some of you may already have a WordPress site, and you may just want to switch to a magazine theme. It's important that you understand what happens when you switch your WordPress theme and follow our checklist of things you must do before changing WordPress themes.
With that said, let's take a look at some of the best WordPress magazine themes that you can use on your site.
1. Divi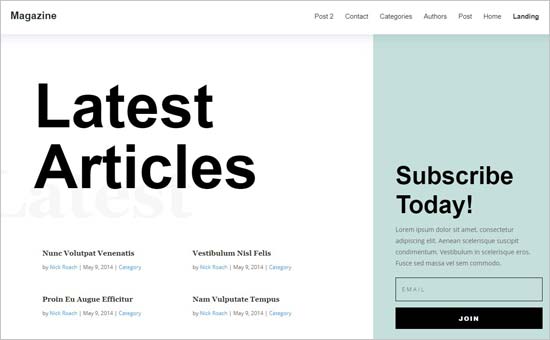 Divi is a popular WordPress theme designed to create any website. It comes with a built-in page builder and dozens of ready-made layouts, including multiple templates for online magazines.
It features custom design elements, color schemes, background options, and more. It also includes SEO optimization to help rank your website in search engines.
2. Astra


Astra is one of the best WordPress multi-purpose themes on the market. It comes with several ready-to-launch websites that you can install using their free Astra Starter Sites plugin.
It works great with any WordPress page builder plugin and comes with tons of flexible options. You can customize your theme using live customizer or by simply editing a page in default WordPress editor.
3. Magazine Pro


Magazine Pro is a modern WordPress magazine theme by StudioPress. Built on top of the powerful Genesis framework, it features customizable headers and comes ready for WooCommerce.
It also includes an easy to setup widgetized homepage, multiple page layouts, and live theme customizer.
StudioPress is now part of WP Engine, the most popular managed WordPress hosting company. You can get this theme and all 35+ other StudioPress themes when you sign up for WP Engine hosting to build your website.
Bonus: WPBeginner...
https://www.wpbeginner.com/showcase/be
7 Best WordPress SEO Plugins & Tools For Higher Rankings – 2020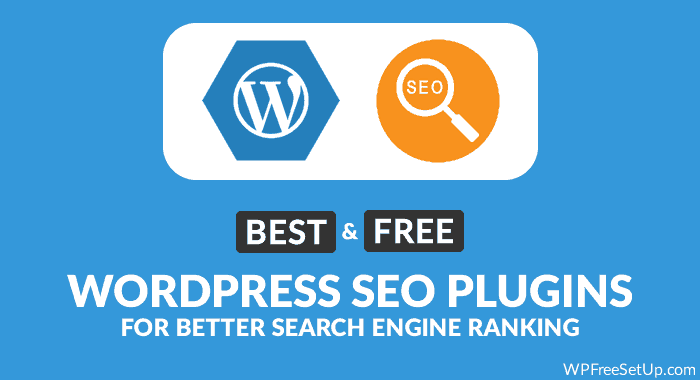 WordPress is undoubtedly one of the best blogging platforms, and with the help of plugins, you could add unlimited functionalities and features.



Today, I will be sharing a few best WordPress SEO plugins that are completely free and will help you to optimize your blog for search engines. I will also share some of the alternatives and will suggest which SEO plugin you should stick to.



One major problem with SEO plugins are, there are so many options available, and it creates confusion for newbies.



Whenever you install a new plugin, make sure you read the complete description and use only which you need to use and make sense.



I won't recommend you to install all the plugins listed below until you know how to use them properly.



Read: 13 Must have WordPress plugins and usesIn this best WordPress SEO plugins list, I will be recommending few of the best and free plugins that are available from official plugin repo.



In upcoming articles, I will do a detailed write-up on how to use these below-mentioned SEO plugins. So let's go on with our list here.



Best WordPress SEO plugins to improve Search engine ranking:



WordPress SEO by YoastSEMRUSH: Complete SEO suiteWP RocketWP Broken Link CheckerSEO friendly imagesRankMathEasy Table of ContentsYou must have heard that WordPress is SEO friendly, and it's not completely true. But, when you compare WordPress SEO with many other existing platforms, WordPress is far superior regarding search engine optimized platform, and with the help of many plugins, you could take the complete SEO of your WordPress blog to next level.



Before you install these plugins, understand how SEO works. Any website including your WordPress blog needs to be SEO optimized on 3 level:



On page SEO: This is where you will ensure your post is optimized for the particular keyword. You take care of Keyword placement, Image Alt tag, heading tags, Keyword density & LSI Keywords & few more things.On-Site SEO: This consists of overall indexing & crawling of your site. You submit your sitemap to Webmaster Tools, configure your robots.txt file & other things that help search engine to crawl better & understand your site. It's important to know that your website speed is also a ranking factorOff-site SEO: This consists of generating backlinks to your blog and getting more social media sharing. Social Media part falls into both On-Site & off-site SEO.More or less, you need to ensure that your WordPress blog takes care of all these three parts & you will notice a great improvement in traffic to your blog. The plugins that I have listed below will let you optimize your blog in first two parameters of good SEO. So, let's get on with this exclusive list of best SEO plugins for WordPress.



1. WordPress SEO by Yoast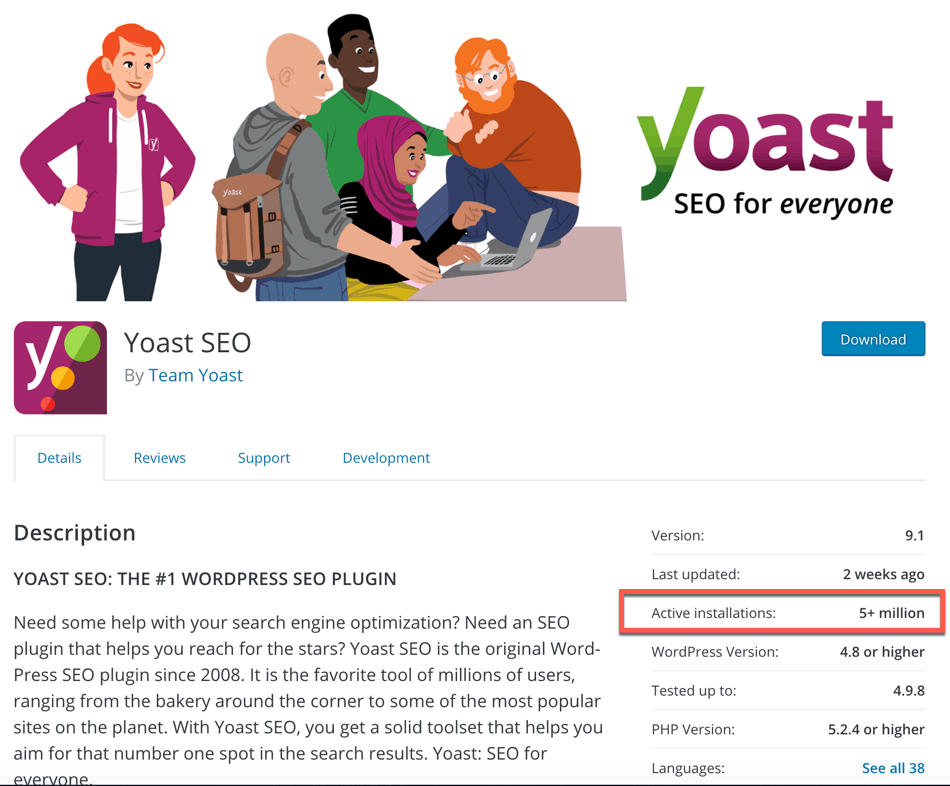 Yoast SEO is so far one of the best SEO plugins for WordPress, as it offers a great deal of control of your blog SEO. You might have heard of many plugins like All in one SEO, headspace, and many others, but SEO by Yoast is far better than any of the plugin that you heard.



Yoast is one of the well-known WordPress ninjas, and his work with this free plugin is incredible. You can control the overall no indexing/do indexing of your WordPress blog, and you can optimize the single post for search engines using this plugin.



This is a complete SEO suite for WordPress. Starting from on-site SEO, this plugin also lets you optimize your...
https://wpsutra.com/best-wordpress-seo
13 Must-Have WordPress Plugins & Their Uses – 2020 Edition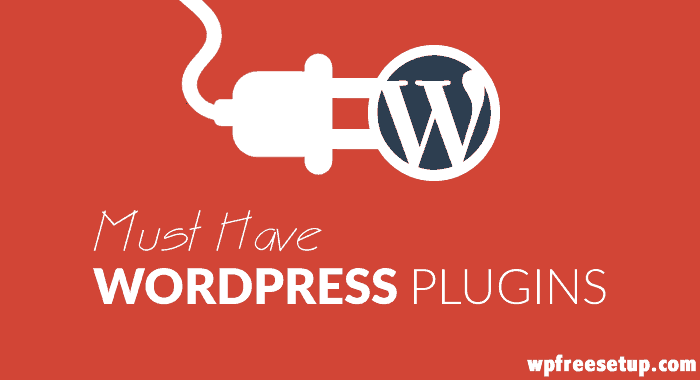 In our WordPress for Beginners series, we have covered How to Install WordPress on Bluehost and how to setup WordPress. Extending the list, I'm sharing a list of must have WordPress plugins that every blog should have.
Now, it's not necessary that you should install all below mentioned plugins, but I recommend you to look into the description and decide if this plugin is going to be useful and important for your WordPress blog or not.
Akismet
JetPack WordPress Plugin
WordPress SEO by Yoast
SocialWarfare
YARPP: Yet Another related post plugin
SEO friendly Image
PushPress
AMP: Accelerated Mobile pages
W3 Total cache
WPForms
WP-Db manager
WP-Optimize plugin
WP Smush.it
I will also add some of the best alternative options to these free and best WordPress plugins, so in case, if you are stuck with the configuration of any single plugin, you can try the alternative. Read on..
Must have WordPress Plugins For Every WordPress Blog:
If you are new to WordPress plugins, once you are inside the dashboard, click on Plugins > Add new and search for the desired plugin. I will add the exact name of the plugin that you need to search and install.
Most of these plugins come with extra configuration, and you should make sure to make optimum changes for making most of these plugins. If you need a tutorial for any specific WordPress plugin set up, you can let me know on our Facebook fan page.
Akismet



This plugin is managed by official WordPress creator Automattic. This plugin is very useful to avoid spam comments. There are many alternatives to this plugin, but I prefer this one, as it's fast and does the job pretty well. You can download the plugin from the official page here. You need API Key to activate this plugin, and you can quickly create a free account on WordPress.com and get your WordPress API key. Here is a video guide on how to get free API key from Akismet:

JetPack WordPress plugin



Jetpack is an official plugin by WordPress parent company Automattic. This plugin does multiple things & have various modules which you can enable or disable. Here are few things which you can achieve with this plugin:
Automatic share your new posts on Facebook, Twitter, Google plus
Offers contact form
Subscription form powered by WordPress.com
Related posts
Mobile theme
Blog Analytics
And many more modules. This is one plugin which is actively updated & most popular choice for all WordPress users.
Download Jetpack Plugin
WordPress SEO by Yoast



SEO by Yoast is the most popular WordPress SEO plugin which is free. Using this plugin, you can configure your WordPress site On-Page SEO, On-Site SEO, Generate Sitemap, Configure Robots.txt file, Edit .htaccess file & check all your crawl errors from WordPress dashboard. If you are serious about your...
https://wpsutra.com/must-have-wordpres
Clean WordPress Database With Advanced Database Cleaner Plugin [Tutorial]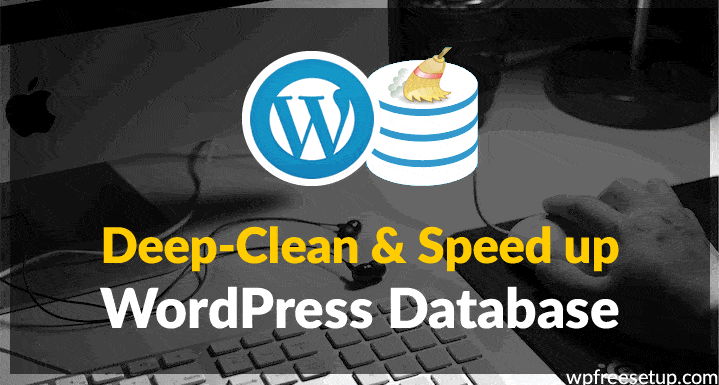 Is your WordPress blog performing slowly on a fast hosting company?
It could be because of your bloated WordPress database. This can be fixed with a good database optimization plugin.
When it comes to cleaning the database of WordPress, we have many great options like WP-Sweep, WP-Optimize, and WP-Db Manager. These plugins clear the overload, optimize the database & in-turn make your WordPress blog perform faster.
However, none of them clean the unused tables, tasks & options left by plugins that you are no longer using.

Do you know that even when you delete a plugin, it doesn't clean everything that it added onto the database?

I have already told you about deep-cleaning your WordPress database in an earlier post.
Recently, I was working on optimizing my main blog's (ShoutMeLoud) WordPress database & had to deep clean the orphan tables & options. Using existing plugins (such as Clean options) were not enough and I was looking for a free alternative.
This is where I bumped into the Advanced WordPress Database Cleaner plugin which is available for free in the WordPress repo. However, the free version is limited to features that are offered by other database optimization plugins such as WP-Sweep.
They also have a premium version which made me purchase the plugin ($15 for one site or $30 for 5 sites).
In this post, I will give you a detailed overview of the Advanced WordPress Database Cleaner plugin & show you how to use it.
How to use the WordPress Advanced Database Cleaner plugin
If you just want to test out the plugin with limited features, you can download the free version from here.
If you are in the process of cleaning & optimizing a WordPress database (your site or your client site), purchase the Pro plugin from here. Do remember, it can take about 5 minutes to receive the email with your plugin file & license key.
Download the plugin by clicking on the link in the email & install it manually.
You can access the settings by going to Tools > WP DB Cleaner & input your license key to activate the plugin.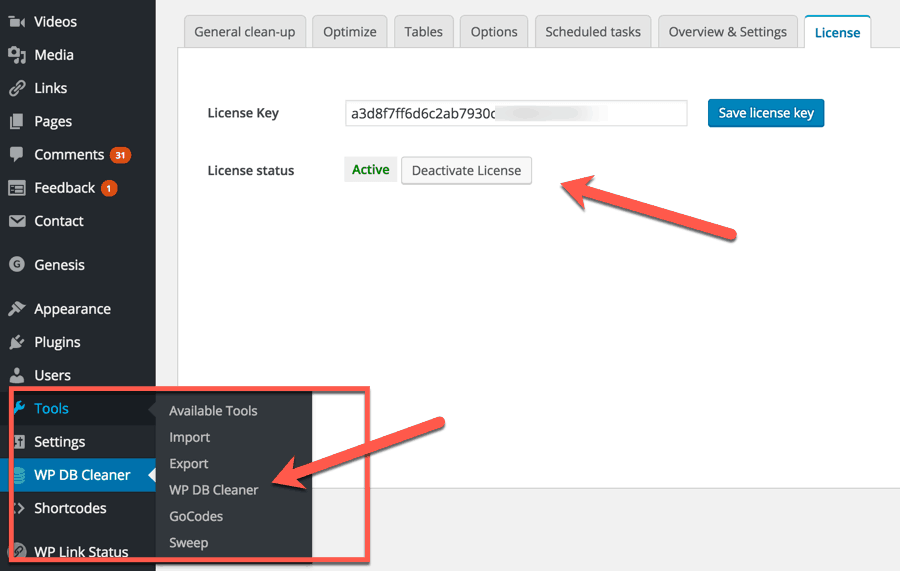 Using the plugin
Upon activation, go to "Overview & Settings" to see the current status of your WordPress database.

Hey, don't forget to take backup of your database before starting to clean & optimize!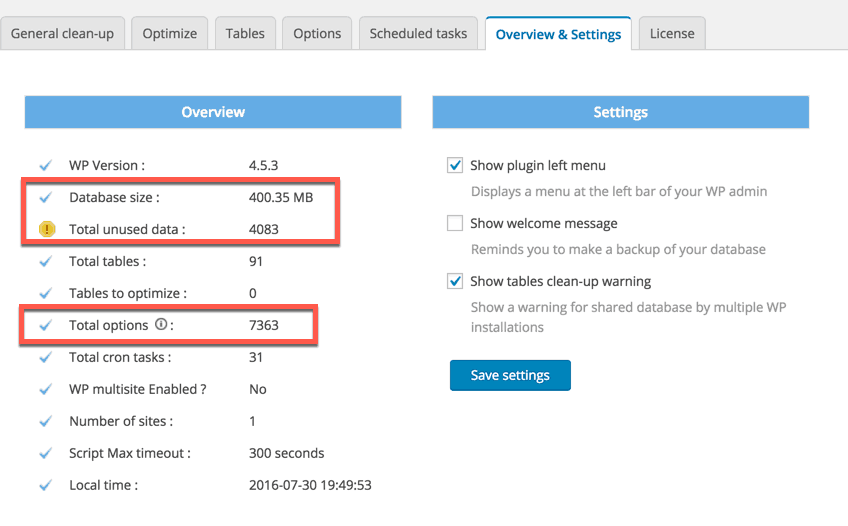 Now, go to the "General Cleanup" tab & start the basic optimization. If you are not sure what to do, just use the settings as shown below.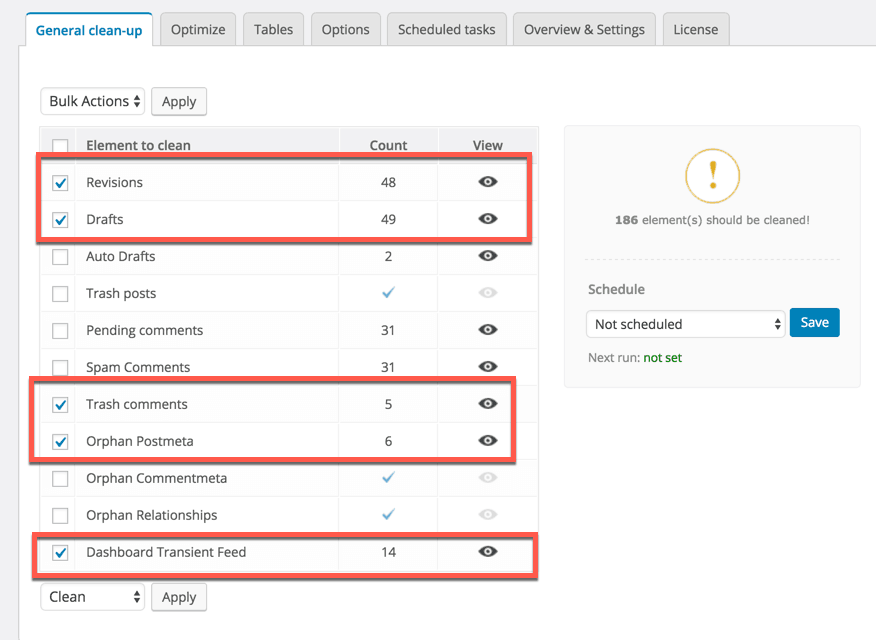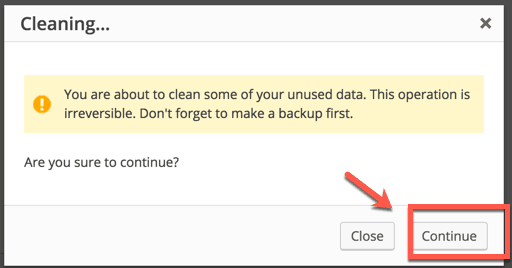 Once this is done, click on the "...
https://wpsutra.com/wordpress-advance-