How to Add Social Media Icons to WordPress Menus
Do you want to add social media icons on your WordPress menu? While WordPress does not come with a social media profiles section, you can easily use WordPress navigation menus to add and display social media icons on any widget-ready area in WordPress. In this article, we will show you how to add social media icons to WordPress menus.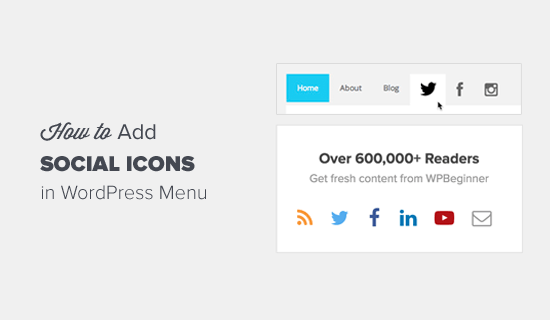 Why You Should Add Social Media Icons to Menus?
The biggest advantage of adding social media icons using WordPress menus is that you have the ability to change the order they appear in with a simple drag and drop interface.
While you can use third-party plugins to display social media icons in your sidebar, most of those solutions aren't as flexible.
Aside from the easy drag & drop interface, when you add social media icons to WordPress menus, you can display it on any widget-ready area on your site including your sidebar, footer area, below posts, etc.
That being said, let's take a look on how to easily add social media icons to WordPress menus.
Adding Social Media Icons to WordPress Menus
First thing you need to do is to install and activate the Menu Image plugin. For more details, see our step by step guide on how to install a WordPress plugin.
Upon activation, you need to visit Appearance » Menus page and create a new menu.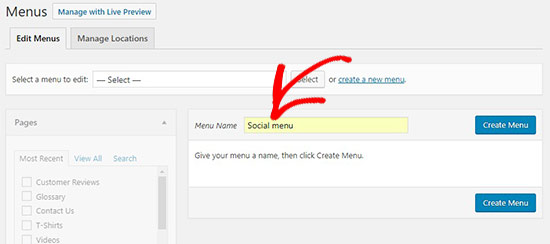 Next, you need to add custom links for each social media channel separately in your new social menu.
You will notice that there is a menu image button option under each menu item. You can use it to upload your social media icon here.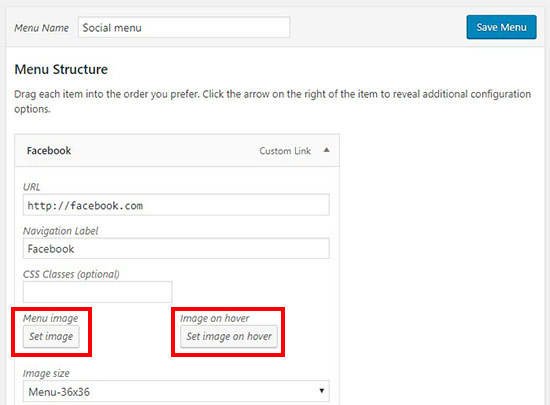 It allows you to upload a different icon on hover with the main icon image to display on mouseover.
After that you can select a size for the social icon. There are multiple options for the image size. Make sure that you select the same size for all your social menu icons, so it doesn't break the menu area.


Next, you need to select a position to display the name of each social channel with your icon. If you only want to display the social icon without any label, then you need to select the 'Hide' option under the Title position setting.



Simply repeat the same to add as many social icons as you need.
Once you are done adding menu items, you need to select the display location for your social menu and click on the 'Save Menu' button.


Now you can visit your website to see the social media icons in your WordPress menu....
https://www.wpbeginner.com/plugins/how
Black Friday / Cyber Monday 2018 WordPress Deals – Big Savings
Looking for the best Black Friday and Cyber Monday deals on your favorite WordPress products? The next few days are the perfect time to buy premium WordPress plugins, themes, web hosting, and tools to grow your business. As always, to help you find the best deals, we have listed the best WordPress Black Friday and Cyber Monday deals for 2018. Some of these are exclusive just for WPBeginner readers.


Note: These offers are for LIMITED TIME only. We've indicated the expiration date next to each offer.
Some deals are not live at the time of publishing this blog post, but they will be going live throughout this week.
Don't forget to bookmark this page because we will be updating it throughout the week as we find new deals. We will also be sending exclusive deals to our newsletter subscribers throughout the week.




NameTypeDiscount




WPFormsPlugin60% off


MonsterInsightsPlugin60% off


OptinMonsterPlugin35% off


SeedProdPlugin35% off


BluehostHosting63% off


SiteGroundHosting75% off


WP EngineHosting35% off


Constant ContactServices40% off


HostGatorHosting62% off


MemberPressPlugin60% off


Formidable FormsPlugin30% off


CSSIgniterThemes50% off


ThemifyThemes40% off


Pretty Links ProPlugin60% off


Affiliate RoyalePlugin25% off


A2 HostingHosting67% off


IPVanishServices70% off


Beaver BuilderPlugin25% off


LiveChatServices50% off


WPZoomThemes60% off


LearnDashPlugin50% off


WP RocketPlugin35% off


StudioPressThemes25% off


iThemes ToolkitSuite50% off


ThirstyAffiliatesPlugin30% off


StartBookingPlugin35% off


WordPress.comHosting30% off


ElementorPlugin25% off


Artisan ThemesThemes20% off


AdSanityPlugin20% off


ImagelySuite40% off


PhotocratiThemes40% off


TeslaThemesThemes40% off


ShowThemesThemes40% off


Widget OptionsPlugin30% off


WP Security Audit LogPlugin40% off


Anariel DesignThemes20% off


Organized ThemesThemes15% off


Fly PluginsPlugin25% off


Complianz GDPRPlugin40% off


Meridian ThemesThemes30% off


ProfilePressPlugin25% off


WP ZincPlugin35% off


Barn2 MediaPlugin50% off


Winwar MediaPlugin25% off


VisualmodoThemes40% off


Event EspressoPlugin50% off


Privacy WPPlugin50% off


WP1099Plugin50% off


WP-CRM SystemPlugin50% off


Conditional CheckoutPlugin50% off


Fullscreen BackgroundPlugin50% off


PremiumCodingThemes50% off


WP BuffsServices10% off


JoomUnitedPlugin40% off


Bootstrapped VenturesPlugin30% off


Apollo13 ThemesThemes25% off


PageBuilderSandwichPlugin20% off


WP Native ArticlesPlugin30% off


TemplateMonsterThemes50% off


WP RSS AggregatorPlugin40% off


WP StagecoachPlugin30% off


DesignEvoServices50% off


FlywheelHosting25% off


ChurchThemes.comThemes30% off


Smart MockupsServices25% off


Full Text SearchPlugin75% off


WP Coupons and DealsPlugin40% off


IconicWPPlugin40% off


LifterLMSPlugin20% off


MyThemeShopSuite35% off


Envira GalleryPlugin30% off


SoliloquyPlugin30% off


All in One SEO ProPlugin30% off


Visual ComposerPlugin50% off


EWWW Image OptimizerPlugin33% off


CometChatPlugin50% off


ShortPixelPlugin66% off


7ThemeThemes30% off


ThemeTrustThemes40% off


WP Sheet EditorPlugin30% off


AccessPress ThemesThemes20% off


CyberChimpsThemes75% off


CloudwaysHosting30% off


Advanced AdsPlugins30% off


Liquid WebHosting50% off


FlothemesThemes30% off


Easy Login Styler ProPlugin50% off


NexThemesThemes50% off


MotoPressSuite50% off


PixelemuSuite40% off


AAWPPlugin30% off...
https://www.wpbeginner.com/news/black-
How to Do A/B Split Testing in WordPress using Google Optimize
Do you want to run A/B split tests on your WordPress site to improve conversions? Split testing helps you understand how small changes in content and design affect user behavior. In this article, we will show you how to easily do A/B split testing in WordPress using Google Optimize.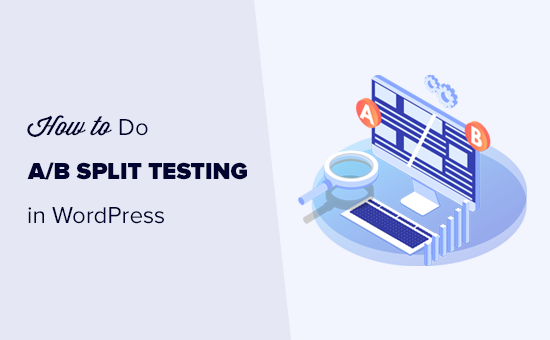 What is A/B Split Testing?
A/B split testing is a technique that allows you to compare two versions of the same web page against each other, so you can determine which one performs better and produces better results.
Marketers use A/B split testing for their landing pages to find out which one gets them more conversions and sales.
Split testing can be used to test any element on the page including call-to-action buttons, color schemes, layout changes, marketing text, images, and more.
How A/B Split Testing Works?
Basically, you show different variations of a page to your audience. After that, you track user engagement and conversions to find out which variation gives you the best results.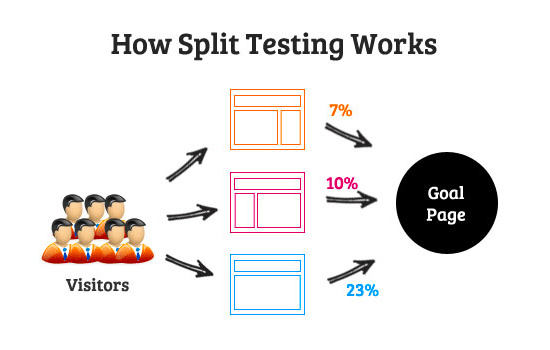 Preparing for A/B Split Testing
Before we move forward, there are a few things you would need for this tutorial.
First, you will need MonsterInsights plugin. For more details, see our step by step guide on how to install a WordPress plugin.
MonsterInsights is the best Google Analytics plugin for WordPress. You'll need at least their Pro plan in order to access Google Optimize addon which we will be using in this tutorial.
If you haven't already done so, then you need to sign up and install Google Analytics in WordPress.
Lastly, you will need Google Optimize. It is a free tool that allows you to run split testing experiments on your website. We will show you how to set it up in the next step.
Ready? Let's get started.
Setting up Google Optimize in WordPress
First, you need to visit the Google Optimize website to create your account.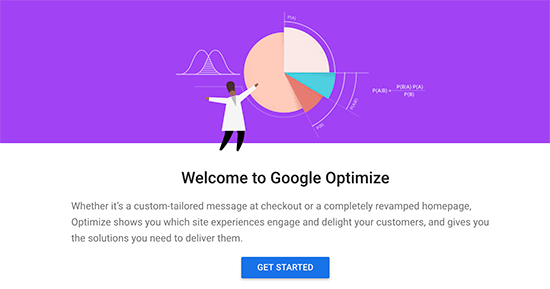 Follow the on-screen instructions, and you will reach your account dashboard. Google Optimize will automatically create an Account and a Container for you.
Next, you need to connect your Google Optimize account to the Google Analytics property of your website. To do that, click on 'Link to Google Analytics' tab from the right-hand column.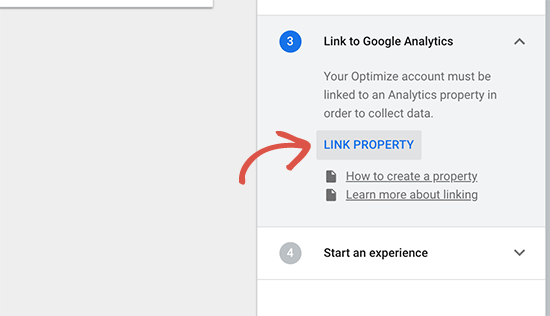 Clicking on the button will show all Google Analytics properties available under your Google account. You need to select the one associated with your website.



Next, click on the Link button to continue.
Google Optimize will now connect to your Google Analytics property. This will allow Google Optimize to share data with Google Analytics which you can then view in your reports.
Now, it is time to create...
https://www.wpbeginner.com/wp-tutorial
How to Use User Generated Content in WordPress to Grow Your Business
Did you know that user-generated content can tremendously help you grow your business? User generated content is both relatable and authentic, that's why it's a big winner with millennials and Gen Z. In this article, we will show you how to easily use user-generated content in WordPress to grow your business.


What is User-Generated Content?
User generated content (UGC) is the content generated by user activities on your website. This includes comments, testimonials, guest blog posts, user reviews, or any other user submitted content that is publicly visible and was a direct result of user action.
Why is user generated content important?
User generated content is important because it enables your users to directly take part in activities on your website. This boosts user engagement as users spend more time on your website.
Engaged users are more likely to subscribe to your website and buy what you're selling.
High-quality and useful user-generated content can help you plan an effective content marketing strategy. You can get more traffic, more affiliate sales, and more social reach to a wider audience.
That being said, let's take a look at different ways to use user-generated content in WordPress. You can use all of them or just the ones that works best for you.
1. Comments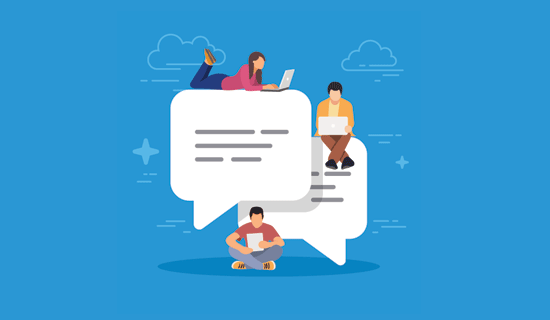 Comments are the easiest kind of user-generated content that every blog can have. WordPress comes with a built-in commenting system that is enabled on all your blog posts by default.
If you run a business website with no blog, then perhaps you should think of adding a blog. You can keep your existing website design and just add a separate blog page to it.
The tricky part is to get your users to comment. Most users usually leave without writing a comment. However, the good news is that there are a lot of ways to encourage more comments. See our article on how to get more comments on your blog posts.
2. Testimonials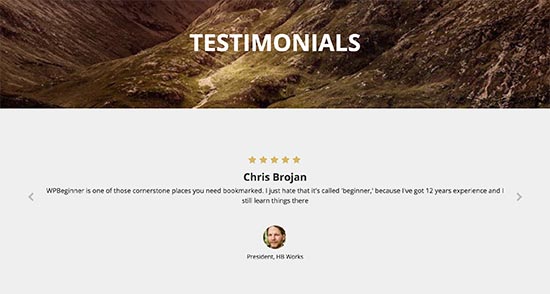 Testimonials not only help generate content, but they also add social proof to your website which helps new users into buying.
For a small business website, testimonials have proven to be a very effective marketing strategy. This is why you see them all around the web.
There are several great testimonials plugins that help you easily add testimonials to your site. You can collect user testimonials using a simple form and display them in a slider, sidebar widget, or on a testimonials page.
Our team behind WPForms has done an excellent job in creating a WPForms review page that shows over 2500+ user testimonials.
For detailed instructions, see our tutorial on how to easily add rotating testimonials to your WordPress site.
3. User Submitted Reviews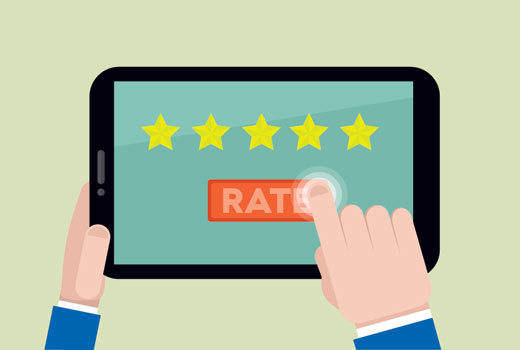 If you sell or recommend products/services on your website, then user reviews offer a great opportunity to add more user-generated content to your website.
Reviews not only help you keep users engaged, but they...
https://www.wpbeginner.com/wp-tutorial
6 Important Reasons Why You Should Use WordPress for Your Website
One of the questions that we often get asked is: Why should I use WordPress? Isn't my old site good enough? Why do I need to switch to WordPress from another platform? If you're asking these questions, then you're at the right place. In this article, we will share 6 important reasons why you should use WordPress. We will also cover all the different type of websites you can create with WordPress as well as showcase popular sites that are using WordPress.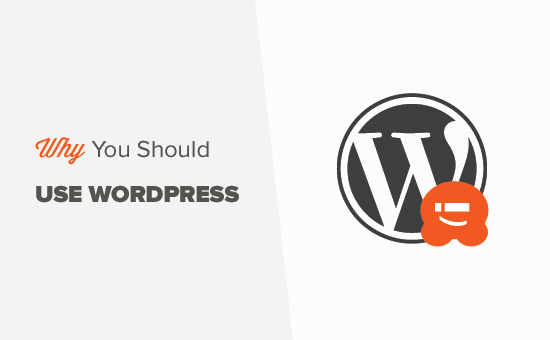 Note: Throughout this article, when we say WordPress, we are talking about WordPress.org also known as self-hosted WordPress. Please do not confuse this with WordPress.com which is a hosting service. For details, see our comparison of WordPress.org vs WordPress.com.
One of the most common misconception about WordPress is that it is just a blogging platform.
It is not.
While WordPress started as a blogging tool, it has evolved throughout the years into a powerful website builder and a robust content management system (CMS).
The best part about WordPress is that it's easy to use and flexible enough to make different types of websites. That's the main reason why WordPress has grown so much in popularity. According to a recent survey, WordPress powers 32.3% of all websites on the internet.
Due to it's robust features, many of the top brands use WordPress to power their websites including Time Magazine, Facebook, The New Yorker, Sony, Disney, Target, The New York Times, and more.
Let's take a look at why you should use WordPress to make your website.
1. WordPress is Free as in Freedom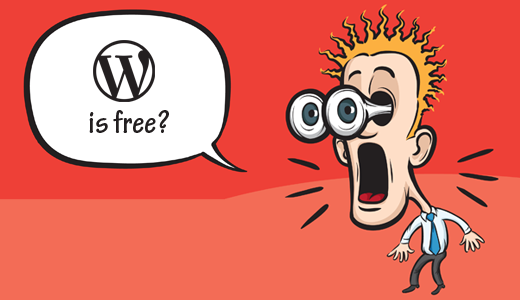 WordPress is a free software. It means you are free to download, install, use and modify it to match your needs. You can use it to create any kind of website. To learn more, see our article about why is WordPress free?.
While the WordPress software itself is free, you need a domain name and web hosting to install it.
A domain name is the address of your website on the internet. This is what your users type in their browser's address bar to access your website (for example, wpbeginner.com).
Web hosting is your website's house where all your website files are stored.
We recommend using Bluehost. They are one of the largest hosting companies in the world and an officially recommended WordPress hosting provider.
They are also offering WPBeginner users a 60% discount on hosting and a free domain name. Basically, you can get started for $2.75 per month.
→ Click Here to Claim This Exclusive Bluehost Offer ←
Need more hosting recommendations? See our pick of the best WordPress hosting providers.
If you want someone experienced to setup your WordPress site, then our talented staff members are happy to help you get started. The best part is that we offer a free WordPress blog setup service.
You can also do it yourself by following our step by step guide on how to install WordPress.
If you run into any issues with WordPress, simply type your question in Google and add wpbeginner at the end of your question. You will likely find the answer on our website.
2. WordPress is Easy to Customize with Themes and Plugins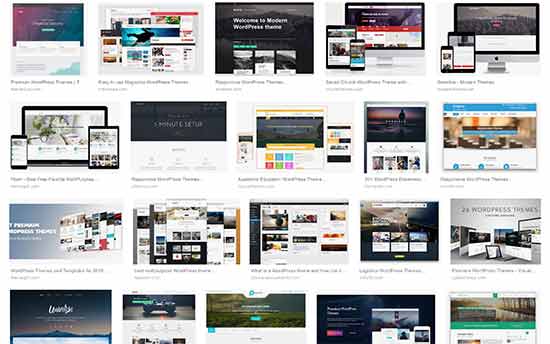 A large...
https://www.wpbeginner.com/opinion/why
WPBeginner Income – How Much Money Does WPBeginner Make?
Since I started WPBeginner (almost 10 years ago), one of the most asked questions I get from readers is how much money does WPBeginner make? Some of you might think that I'm making this up, but I'm not. If you were to search WPBeginner in Google, you'll notice that one of the top related search keyword is "wpbeginner income".


Now I know that several popular bloggers share detailed income reports, and some of them have even built their brand around that. I have had several readers tell me that I would be more popular if I shared the WPBeginner income report, but honestly I am not interested in having readers like me because of how much money WPBeginner make.
I want our readers to like and follow WPBeginner for the quality of content that we publish.
But since the question about WPBeginner income keeps coming up, I want to take some time and answer it in the best way possible without compromising my personal core values.
I believe that success and failure are both temporary conditions, and it's important to stay humble at all times. This is why I have never shared any WPBeginner income reports.
I feel bloggers that share income reports are "showing off", but that's just my opinion.
I definitely understand that a lot of users who're just starting a blog find these blogging income reports inspirational.
However I feel that sharing WPBeginner's income would not be helpful to our readers because it's hard to relate to it.
Why?
Because WPBeginner is not a typical blogging business. We don't just make money by selling ads or affiliate links. As a matter of fact, you can't even buy an ad on WPBeginner. Majority of the affiliate products that we recommend are the ones that we use ourselves.
So how does WPBeginner really make money?
We make money by selling our suite of software and WordPress plugins including: OptinMonster, MonsterInsights, WPForms, SeedProd, etc.
Our plugins are currently running on over 8 million websites.
And a big reason for the popularity of our plugins is the marketing power of WPBeginner. Although, we don't sell any plugins directly on WPBeginner website, the longstanding goodwill that we have earned in the community has helped us build independent brands for each of our plugins.
Aside from that, we also have investment stakes in various other WordPress-focused companies through our WPBeginner Growth Accelerator fund which includes MemberPress, Pretty Links, Formidable Forms, and Affiliate Royale.
So What is WPBeginner's Income?


The best way to think about WPBeginner income is to look at everything this blog has helped me build. With everything combined, WPBeginner blog has helped build a strong 8-figure annual business.
If I were to use the "blogging industry lingo", then I would be an eight-figure blogger, but I don't like this label (more on this below).
Since "eight-figure blogger" is not a commonly used term, some of you might be wondering what does that really mean?
You may have seen bloggers labeling themselves as "six-figure bloggers" or "seven-figure bloggers".
In a true sense, these labels are defined as:

Six-figure – annual income over $100,000 USD
Seven-figure – annual income over $1,...
https://www.wpbeginner.com/opinion/wpb