What is Brickseek and How to Use It
a tool for consumers to start using
From basic definitions to pros and cons and everything in between.
online, tool, consumers, hidden inventory
What if there was a way to find the best prices and inventory in your local area without leaving your home? It is an easy-to-use, one-stop-shop for finding the lowest prices in your area. It's like having a personal shopper at your fingertips! You can search by UPC or SKU number and get instant results of where to buy it cheapest.
With this platform, you can get access to all of your favorite brands at unbeatable prices. You'll never have to worry about paying too much again.
Find out exactly what this website is and why you should be using it to find the best deals in your city in the article below.
What Is Brickseek?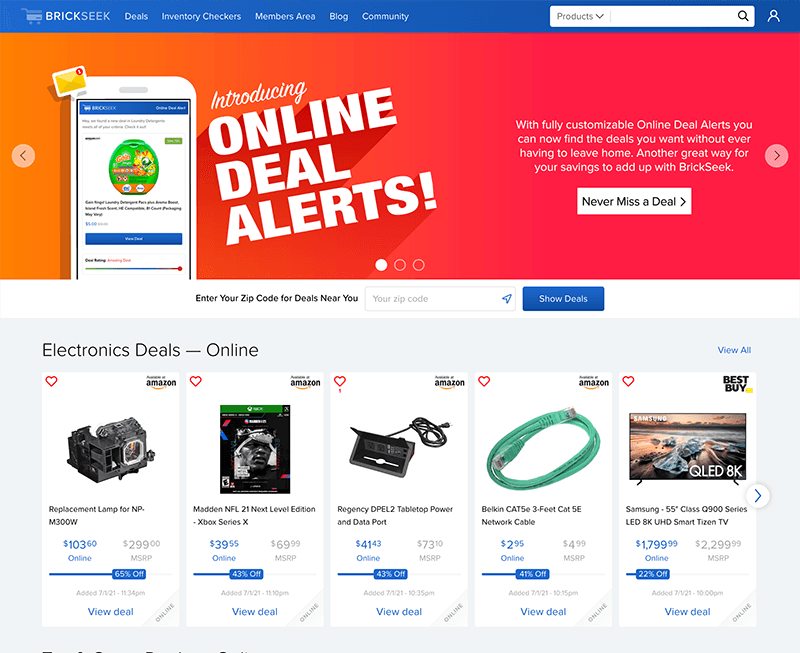 From humble beginnings, it was originally catered by Lego enthusiasts who were looking for unique and special pieces to complete their set.
Since their launch in 2014, their site has evolved rather quickly to include any products carried by major retailers.
It doesn't matter if you're doing product research at your home or on the go, you can use this app on your mobile device or a web-based browser.
You won't be able to find smaller, more specialized, retail stores in your local area but you will be able to see the big name brands like Target, Walmart, CVS, Home Depot, Macy's, Lowes, and Staples.
On top of being able to show you which stores are providing the best deals, you can also check to see which products are available before heading out to the store.
This tool is able to do this by following the SKU (stock-keeping units) and UPCs (unique product codes) of products located in stores.
You can even use this tech to search online stores as well as physical stores in your city.
What are the Benefits of Brickseek?
Consumers should consider using it because it can cut down dramatically on your time searching your local area for products you need.
The tool is good enough to use the free version but for advanced features in product availability and pricing, you'll want to upgrade to a subscription.
Saving You Time
The main benefit of using this tool is to save you time from hunting down products all on your own.
Normally, you would have to call a bunch of stores and take loads of time getting put on hold or talking with employees who aren't invested in your best interest.
You can pull up the tool on your browser, plug in your product, and immediately see all major retail outlets in your local area.
Not only does this save you time, but it also saves you the headache of dealing with store employees and trusting if what they tell you is correct.
Finding Hidden Inventory
Another advantage to using it is being able to find hidden inventory in your local stores.
Even by calling an employee, they may not be able to find a certain item that is in your store. This service shows you the last four digits of a product's barcode, which stores use to scan items when they are stocked and sold online.
This ensures that if a business has scanned the item when they received it, you will be able to see it.
This website can also be used for finding out what has been selling well at other locations or seeing if an item is on sale at a closer location to you.
This information can help you know where to go first, instead of having to spend all your time going from store to store.
Saves You Money
The last, and probably the most important, benefit from using this tool is the ability to save you money.
Program is able to do this by giving you the retail prices of many listings as well as any special deals that are going on.
The online tool also lists a variety of stores that are currently selling items, which can help you find where to buy your desired item at an affordable price.
All consumers will benefit from using this modern service to save money on products they might have otherwise purchased at full price.
It can also save you some gas money from having to drive to different stores to find the right product.
How Does Brickseek Work?
While it can be overwhelming to search through all the new inventory of your favorite big box store, with this app you don't have to worry about that.
The built-in inventory checker helps you check through all the inventory that is carried by the stores it supports.
There are two main ways you can use this website when you need you find the best deals and hidden inventory.
Searching for Specific Products
Having just the name of the product isn't going to be good enough when using specific search. Make sure to include more advanced information like the SKU, Unique Product Code, or model number of the product.
Because this platform is made to help people in their local area, you can filter out results using your zipcode to find stores closest to you.
After inputting all the information for looking up the product, the tools will pull up information like:
Which local stores have your product in stock
Lowest prices and special deals on products
Availability of each product in stores
Because stores are constantly updating their inventory, there could be minor discrepancies between what you see and what is actually available.
Browsing Available Products
You don't have to know the exact product and all its advanced information in order to use Brickseek. You can browse through a list of pre-populated items like trending online deals, trending in-store deals, or by categories.
Anyone involved with retail arbitrage can benefit from using this tool because it lists the items that are currently in the clearance section.
Other categories include:
Electronics
Sporting Goods
Baby
Home Goods
Toys & Games
Tools
How E-Commerce Owners Can Use Brickseek
E-Commerce owners need to know their competition and what's working in their industry.
Instead of spending your own time trying to do the necessary research to create and sell successful products, this service brings all the information right to you. Not only that, but it also gives you the exact prices the products sell best for.
It doesn't matter if you are reselling items using eBay, Amazon, or any other third-party seller, the application can help you get a head start on the product development process.
Saving this much time will allow you to focus on other areas of the business that will ultimately raise you bottom line and help establish your brand.
Even though Brickseek may help you to understand how to better market your products and set prices, consumers are using it to find other stores that have even better prices.
Unless you can compete with major retailers on price or availability you may need to consider other ways you can compete.
Brickseek can work well for e-commerce owners looking to save time and money, but it also works for consumers in the same way.
All the Features of Brickseek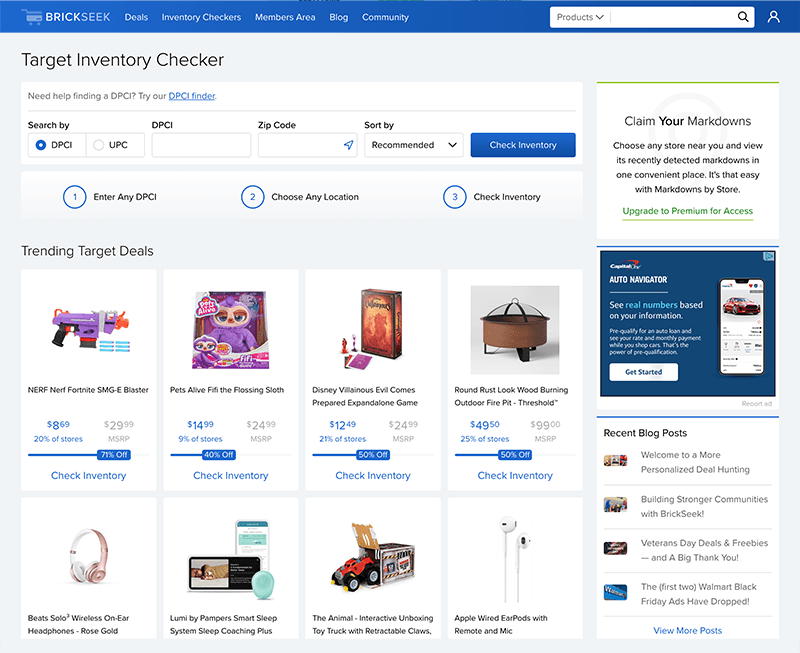 The power of this solution is to find specific products, search for the best deals, provide product availability, and find stores in your local is exactly why so many use it when purchasing products.
But that's not all it can do. Here are a list of features you can use it for when trying to find the best products in your area.
Inventory Checker
The inventory checker is the feature that is most used because it's what will help you find the right product at the right time.
As mentioned above, it will help you find the best deals in your area as well as store availability and hidden inventory.
Stock Changes
The online tool offers recent stock updates that consumers can use to track inventory changes like availability and price. One of the biggest benefits of this feature is its ability to help people compare prices at both different stores and locations.
This type of updated changes is exactly what helps consumers find the best prices at the best locations, reliably. Individuals who are using Brickseek for retail arbitrage will enjoy this feature because it can help you learn to set prices more accurately.
Store Markdowns
This feature can be used by both consumers and retail arbitrage dealers to tracks the retail price of an item and whether or not that item has been marked down.
It will also show you additional information like previous and new prices, timestamps of the recent detection, the manufacturer's suggested retail price, and the stock status indicator.
All of this information will be crucial to know if you are getting the best deal or if a product is worth investing in.
This feature can also help you from getting swindled by local stores that might increase prices so that it appears like it has received a markdown.
The tool will keep a record of prices the product has been marked at, helping you get honest and straightforward information.
This is One of is the Best Choice for Consumers
Platform is an easy-to-use online tool that helps consumers find the best prices on products in their area. It's also an excellent starting point if you want to compare your local brick and mortar stores against one another for item price comparisons.
Whether you use it as a standalone site or just to supplement your other shopping research, this application can make finding deals easier than ever before. If you need any help using the app, check out its blog section or Brickseek.COM for more information about how it works.

Sergio Sviridov
Information Delivery Specialist
---
Leave a Reply