Delete Telegram Account in Four Easy Steps
desktop and mobile device - automatically or manually
There is no way to restore data after account removal.
Consider backup your information before requesting account deletion
You could delay removal process from 1 to 12 months.
In recent weeks this messaging app has seen unprecedented rapid growth. Millions of new users most of whom came from other platforms choose to open an account with this cloud-based instant messaging service. In addition to text messaging it has end-to-end encrypted video calling, VoIP and file sharing options. Often the reason why users open an account is that Telegram mobile app for iOs and Android iOS positioned itself as a censor free secure and unscripted user to user communication.
But more people join, more people leave. And there could be many reasons why, including security. Because even a very secure application might not be secure enough and even Telegram looks better than most of its competitors it still has issues and data bridges.
By default, application doesn't encrypt your conversations unless you manually switch over to "Secret Chat", you get less security
In 2017 hackers injected a Unicode bug in the Telegram core and were able to spread malware to Windows computers
Chat members could delete messages of the other party without any notification. That means the person you chat to could change that chat's history by removing any messages.
Telegram' own security protocol "MTProto" has been criticized  by some cryptographers and has not been fully proved.
As WhatsApp, Telegram weak point is media-file-jacking
You could try to check destruction settings at first. But if you have decided to permanently delete Telegram account, please remember!
Deleting a Telegram account will also delete your contacts, messages, groups and channels
Code on the Telegram makes deactivation irreversible
Even if sign up from the same computer with the same phone number in future you won't be able to restore your data
There are two ways how Telegram account could be deleted
First option to delete - self deactivation process preference in settings and it is a default setting.
There is no "delete" or "cancel" my account button. There is an application security futures that controls automatic account removal after a chosen period of inactivity. The default choice is six months. To change that:
1. Go to Settings and Choose Privacy & Security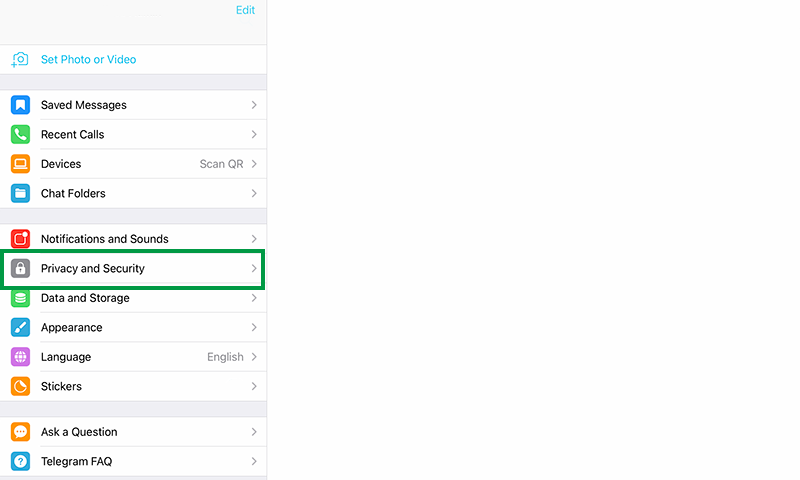 2. Scroll down and tap If Away For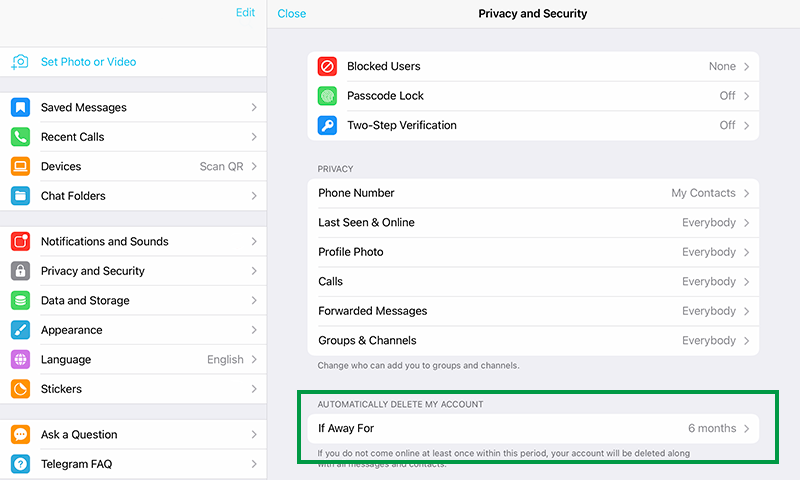 3. Change it for 1 month and do not use application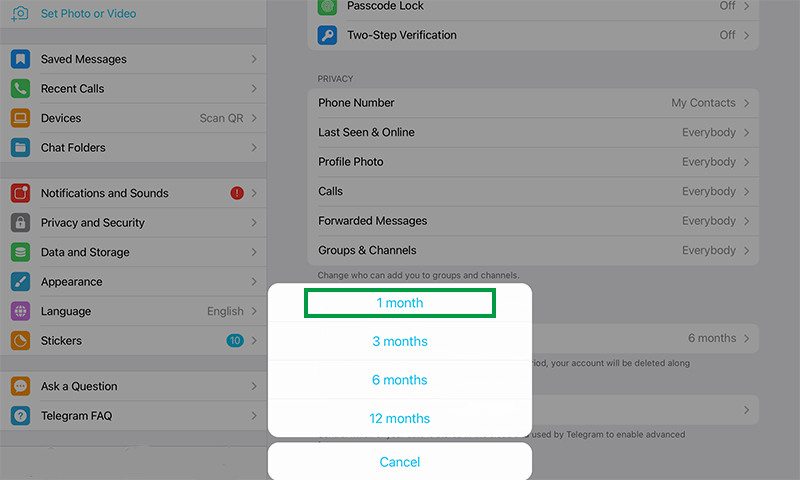 4. After 1 month it will be automatically deleted. You do not need to make any extra steps but if you change your mind all you need is just login back.
Second - manual account deactivation and removal.
1. Visit the Telegram Deactivation Page on a web browser on Desktop computer, iPad or smartphone Enter a phone number you've signed up with for Telegram and click Next. You need to use international phone number format +(country code)(aria code)(phone number).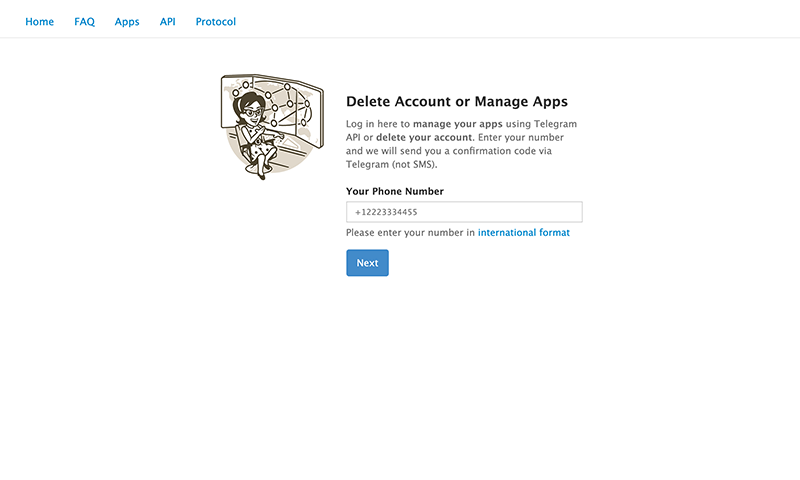 2. If the application recognize your phone number you will get a message in your Telegram app (not via SMS) with a confirmation code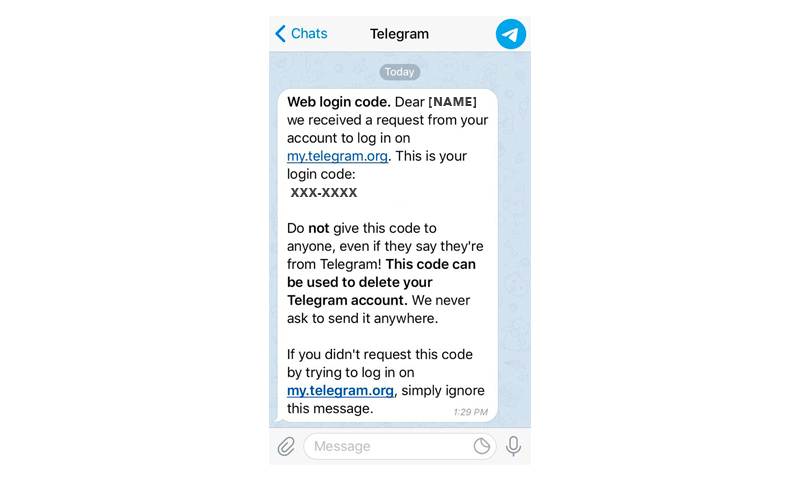 3. Enter this confirmation code in the deactivation window in your browser, Add a reason for leaving if you wish so (but not mandatory)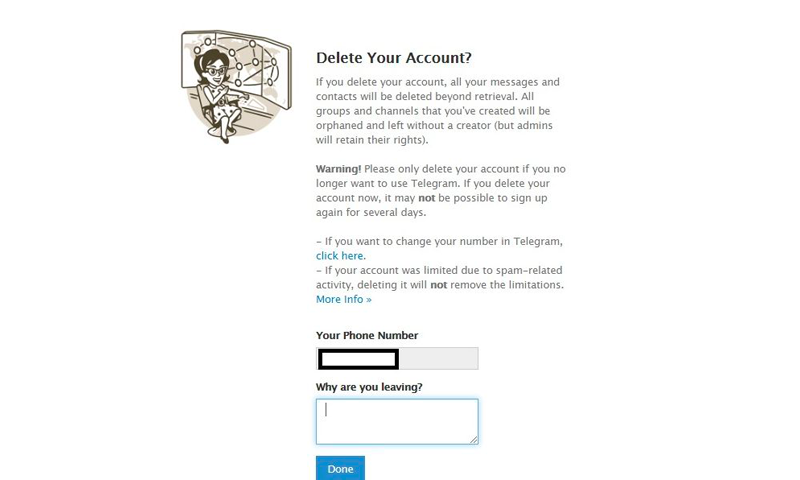 4. Click on the "Delete Account" button.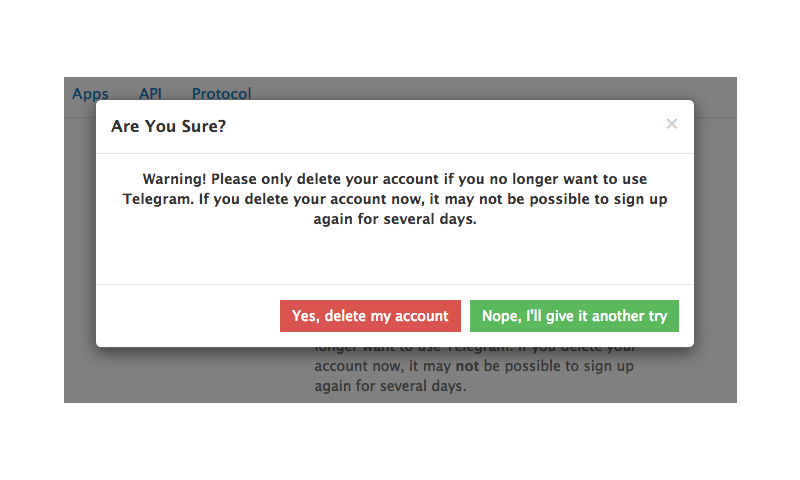 After that your account and data will be gone right away, no need to wait for 1 month.
Before completely removing your Telegram account permanently there is an information you might consider to backup
To save data before deleting Telegram you need:
1. Open the Telegram desktop app: https://web.telegram.org/#/login
2. Click on Settings
3. Choose "Export Telegram Data"
4. Click on "Export Chat History"
5. Select the type of data to export
Congratulation you have backup and removed your Telegram account.
Categories: Bussines
Tags: Social

Sergio Sviridov
Information Delivery Specialist
---
Comments
Leave a Reply