Cyber Background Checks Record Removal
billions of public records about millions of adults in the US
You have right to request information removal.
Removing data from Cyber Background Checks will not remove it from original source.
Check your profile before someone else see it, search is free.
CyberBackgroundChecks is a website that provides users with free access to public online information about people and businesses. This site was created in 2019 and today has a domain authority score of 14.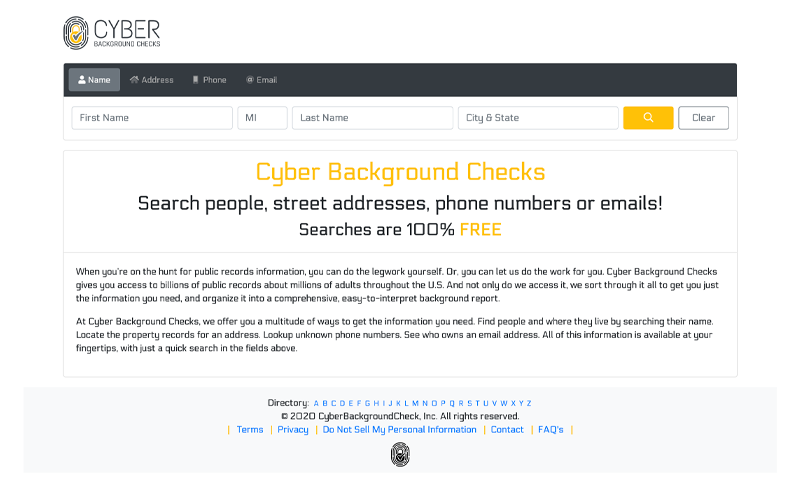 Visitors could search for information about individuals by first and last name, their mailing address, phone number or email address.  And they might find the following record in CyberBackgroundChecks.com database
Current and historical addresses
Any observed aliases
Current and historical phone numbers
Possible relatives and other associates
As Possible business ownership and assets
Some people ask how this information was collected, and what is considered to be a public record? Here is a list of what type of data that counted as a "public record":
Arrest records
Bankruptcies
Liens/foreclosures
Property records
Professional licenses
Marriage/divorce records
Birth/death records
Even the information presented in CyberBackgroundChecks  search results was collected from open online sources users have right to ask for it to be deleted.
To remove yourself from CyberBackgroundCheck website follow these steps:
1. Visit Cyber Background Checks Record Removal FAQ page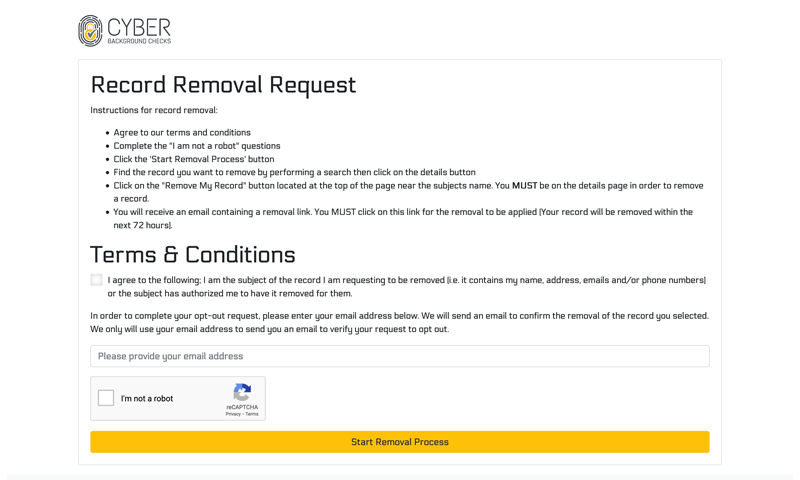 2. Agree to our terms and conditions
3. Pass reCAPTCHA "I am not a robot"
4. Agree with Terms & Conditions
5. Fill in your email address
6. Click the "Start Removal Process" button
7. Navigate to a record you are looking to remove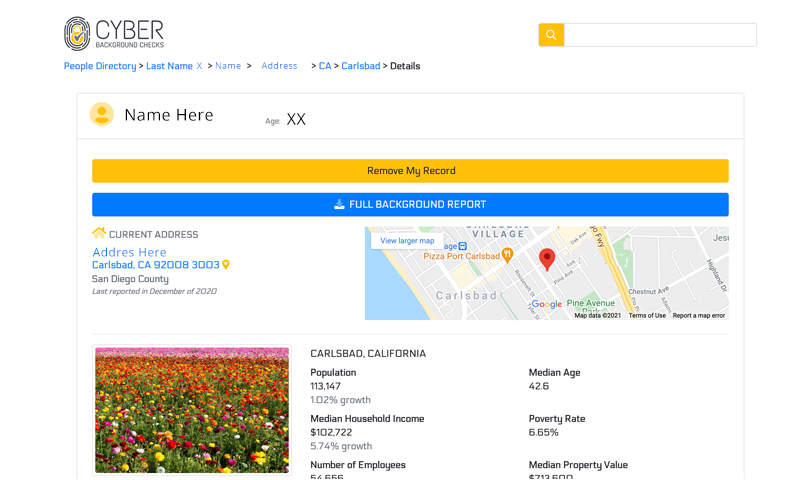 8. Click on the details button
9. Click on the "Remove My Record" button at the top of the page
10. You will get an email with a removal link. You MUST click on the link in this email to be removed from the database.
Usually it takes up to  72 hours for record to be deleted.
Categories: Bussines, Security

Sergio Sviridov
Information Delivery Specialist
---
Leave a Reply